Item 700/E/E8 and 700H/E
Previous Item | Next Item
One-Year Warranty Renewal
Item 700 for M2UB, M2U, M3U, M3UH
Item 700E for M2UB, M2U, M3U, M3UH with 1-7 Expansion Modules
Item 700E8 for M2UB, M2U, M3U, M3UH with 8+ Expansion Modules

Item 700H for HVX, HVX-21
Item 700HE for HVX, HVX-21 with Expansion Modules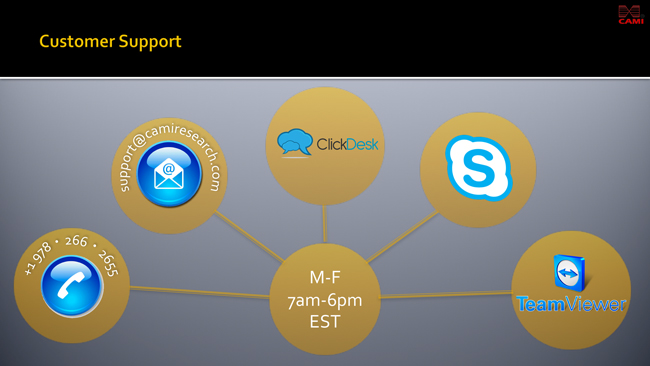 Standard Warranty
New CableEye systems include a one-year warranty on the test fixture and any associated hardware (such as connector boards*). We will correct at no charge to the customer any electronic or mechanical failures that do not result from abuse or wear-out. During the warranty period, you will also receive free** software updates & upgrades (if downloaded from our website); and 8 hours free technical support through our 800 number, online chat, or Team Viewer.

You may request loaner equipment at no charge while your warranty is active to coincide with your tester being serviced at CAMI. If suitable equipment is available, the cost of round-trip shipping must be covered by the customer.
Customers with active warranties may download new software, documentation, and technical tips from the Customer Services area of this web site. Use the access codes provided with your new equipment to enter, or call us with serial number in hand to obtain your access codes.
Warranty Coverage Summary

1 - One year warranty period (renewable)
2 - Repair of unprovoked hardware failures (parts & labor)
3 - Free** software updates/upgrades
4 - 8 hrs Free Tech Support
5 - Loaner equipment at no charge while your unit is out for calibration or repair
6 - Remote control technical support


* Included when all CableEye testers under ownership by the company are in warranty.
**Free when updating or upgrading from software that is less than 4 yrs old.

Warranty Renewal
Before the end of the warrantied period, you may purchase a further one year warranty extension (see item numbers at top of page). Warranty renewal continues coverage as per our Standard Warranty.
You will receive a Warranty Certificate and Software Update CD by mail. You may order the extended warranty in advance for as many years as desired with the purchase of a new system to ensure future coverage.
Note: Expired warranties may be renewed. Contact us for details.


Warranty Repairs
Refer to this page when you suspect a tester error. Follow the instructions given for when and how to send your tester for repair.
Other Service
Looking for another service such as Software Upgrade, Hardware Upgrade, Calibration, Repairs? Click here.



Feel free to contact us if you have any questions!


+1 978 266 2655


service@camiresearch.com