More Options, Increased Flexibility
This optional 'simplified' GUI is suitable for performing basic cable and harness pass/fail tests such as might occur on the production line. The new interface is compatible with Touch Screen operation, and isolates the worker from CableEye features and controls superfluous to their assigned task.
This Simplified Automation User Interface feature comes with all new CableEye products as part of Version 5-B1188 software. It is also available as a software update which may be purchased by itself (Item 726B), or downloaded for free from our Customer Support site with a valid Warranty. CableEye software running Version 5-B1188 or newer has this option available.
Touch Screen Cable and Harness Testing Automation on the Production Floor
Two 'simplified' views are provided,
Basic
and
Plus
, and present clean-cut information, ideal for workers on the production floor.
Simplified Automation Screen, Basic
hides the main window and replaces it with one containing fewer buttons and sub-windows:

Simplified Automation Screen, Plus consists of the Basic view, with the addition of Re-Test, Probe, and Continuous Test buttons that can be used when the test is paused to permit rework and analysis: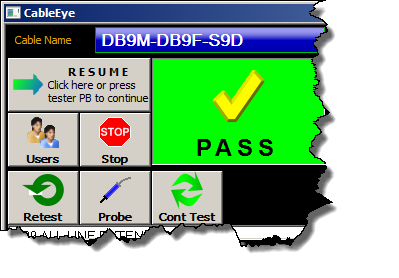 How to Enable Simplified Automation Screen
To ready the Simplified Automation User Interface, qualified personnel/management prepare Automation Scripting through the automatic test window (macros) of the main CableEye software. This customized Automation Script may be saved to the desktop as a shortcut to be used on production workstations. Production workers launch the Simplified Automation Screen from the shortcut on their workstation ... which may be a Touch Screen Computer ... and initiate the test sequence embedded within.
---
1 - The CableEye screenshot on the right shows how to enable the Simplified Automation Screen in a simple macro example. The first instruction activates the new screen, and you can easily add this instruction to every macro in your database. As usual, you can go to the CableEye Help Menu to see a more detailed explanation.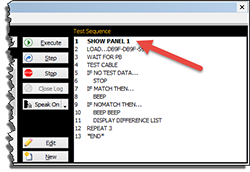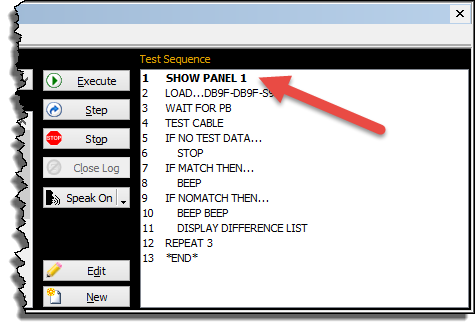 ---
2 - Note: You will need to disable an aditional setting in the preferences menu to activate this new feature. In the preferences menu, go to the Control tab and uncheck Legacy Macro Support Only, just like in the screenshot in the right.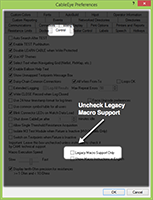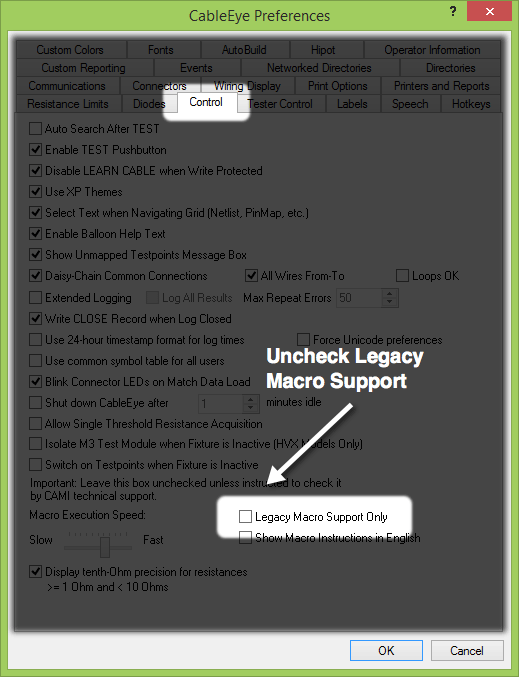 ---
3 - To create a macro shortcut in the desktop, simply duplicate the CableEye icon in your desktop. Then rename the new icon and right click then select Properties. Finally, add the following at the end of the Target: "MacroName.mac /exec". Replace "MacroName" with the name of the macro that you want to create the shortcut for.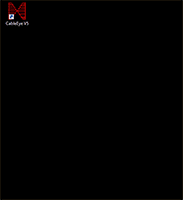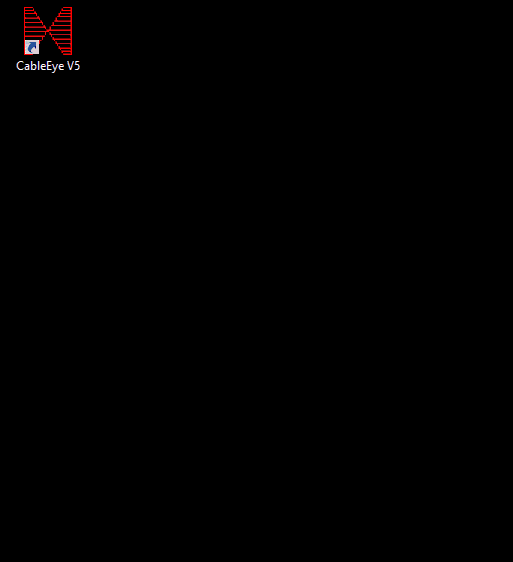 ---
Enjoy the increased flexibility offered by our Simplified Automation Screen feature on your production floor today!
---
... nothing but positive reviews from our Quality department and more importantly from our customers.
We have used our CAMI CableEye test equipment for over three years. We routinely use it to test over 1,000 test points on an aviation harness and have nothing but positive reviews from our Quality department and more importantly from our customers. The reliability of the equipment allows us to provide our customers with the best possible products. We've also found that the customer service and response time from CAMI Research to be excellent. All in all a company I would highly recommend using.
Eric Lutz, VP Production
Galaxy Wire and Cable, Inc.
(Contract Cable Assembly)
Hear more from our customers ...