Item 879
Previous Item | Next Item
Environmental Sensor
Of particular interest to medical and defense applications, this add-on option provides automatic measurement and reporting of environmental test conditions (temperature, relative humidity, pressure) alongside electrical function data for the cable, harness, or backplane under test. This option simplifies test and reporting procedures especially involving testing with environmental chambers.
This option comprises custom software and a Dracal environmental sensor that connects to a USB port on the tester's computer. CAMI's accompanying custom software reads the data into variables within the main CableEye software. The basic option (Item 879) includes the PTH200 sensor which has a typical operating range and precision as noted in the table. Contact us to inquire about options with user-calibratable sensor (PTH200-CAL), or with precision (PTH420) or high precision and wider temperature range measurement (PTH450, -40°C to 125°C).



Software
IDRequires software release Build 1842 or later.
Temperature

-40°C to 70°C

±0.3°C

Relative humidity

0 %RH to 100 %RH

±2.0 %RH

Atmospheric pressure

70 kPa to 110 kPa

±0.15 kPa (at 25 °C)

70 kPa to 110 kPa

±0.18 kPa (from 10 to 40°C)

45 kPa to 110 kPa

±0.20 kPa (from 0 to 40°C)
Typical Operating Range and Precision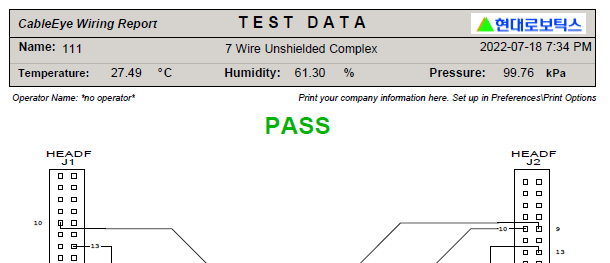 Wiring Report with Environmental Parameters
Sensor Hardware
---