Item 763
Previous Item | Next Item
CB33 Connector Board
Molex MiniFit, MiniFit Sr., and MicroFit® Connectors
Shown Actual Size
Configuration
This board includes connector footprints for MiniFit connectors with 0.118", 0.165", and 0.394" pin centers. The footprint patterns were sized so that the largest connector in the family will fit. Connector graphics are automatically size to fit the measured wiring.
Connectors Not Included: Solder Service1 available.
2 Set of two boards.
1 SOLDER SERVICE: We mount connectors that you supply. Test is only possible, and included, if you are able to supply us with test cables. Test cables will be returned. When ordering connectors, choose post length suitable for 0.093" thick PCB - the thickness of all CAMI CB boards. Contact us for pricing.
Voltage Rating
Rated for operation up to 500 Vdc/ac.
Can be certified for operation at the maximum rated voltage for a service fee (Item 626).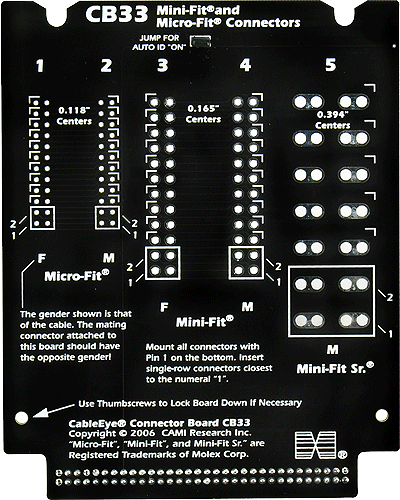 ®MiniFit, MiniFit Sr., and MicroFit are registered trademarks of Molex Corp.