Item 763
Previous Item | Next Item
CB33 Connector Board
Molex MiniFit, MiniFit Sr., and MicroFit® Connectors
Shown Actual Size
This board includes connector footprints for MiniFit connectors with 0.118", 0.165", and 0.394" pin centers. The footprint patterns were sized so that the largest connector in the family will fit. Because of the wide variety of connectors available for this board and the many possible customer configurations, the board is sold without any connectors. Customers should obtain their own mating connectors suitable for their application. Connector graphics are automatically size to fit the measured wiring. Set of two boards.
When ordering connectors, choose post length suitable for a 0.093" thick PCB. This is the board thickness of all CAMI CB boards.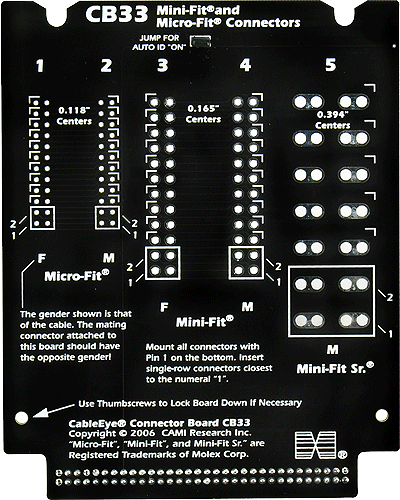 ®MiniFit, MiniFit Sr., and MicroFit are registered trademarks of Molex Corp.