Attached and Detached Expansion Modules are Available,
Expand the Tester to over 2560 Test Points
CableEye® with Three Attached Expansion Modules
The configuration shown here provides 512 test points for testing large cables, backplanes, or wiring harnesses. System includes a probe socket, remote control socket for use with a footswitch, external control panel, and external relay controls to synchronize tester with other equipment. Software API available for external control by customer Visual Basic or LabView programs. Relay board available for external control of solonoids, alert lamps, and bin diverters. Free demo systems available!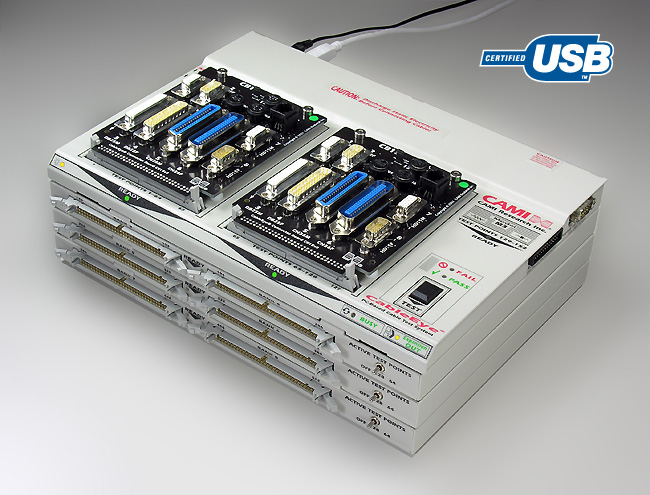 Expand CableEye for Wire Harness Testing

Add expansion modules in increments of 128 test points.
Easily interface your harness to the tester using standard 64-pin latch headers with 0.1" (2.54mm) spacing, or our screw-terminal transition boards (photo on right).
Small bench footprint of 9x12" (23x30 mm)
Fast USB interface scans 512 TP with dual resistance thresholds in 1.6 sec.
Graphic software package shows wiring schematic with connectors or wire list with wire colors and descriptions.
Use standard plug-in boards for cables and small harnesses for quick setup and test results.
Advanced Guided Assembly software available for test-during-assembly production.
CAMI Research will provide support to your production team in creating the harness interface, or will completely engineer and build the interface for you if you prefer.

Screw-Terminal Transition Board

Quickly wire mating connectors to the tester using our Screw Terminal Transition Board, Item 759A. Attach this board to your harness board and link to the tester using standard 64-conductor flat cables.
Boards may be stacked to save space, or used separately in different parts of the harness board to shorten the mating connector wires.
Harness Example 1: Testing a Small Harness
This harness has several long legs and is brought to the tester coiled on a wheeled cart. The test operator positions the cart in front of the tester and conveniently attaches the adapter cables to mating connectors labeled to agree with the numbering on the harness connectors.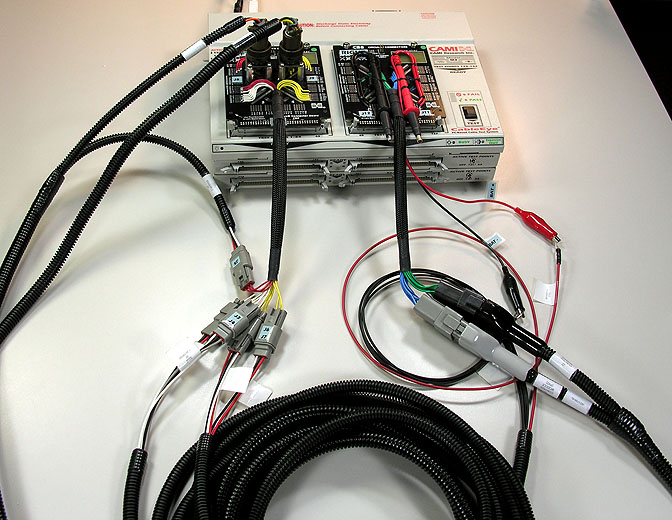 Harness Example 2: Testing a Large Harness using Adapter Cables
This complex harness (right side, white and green wires) was designed to fit behind the instrument panel of an aircraft. To test it, we built a series of adapter cables that link to the harness's closely-spaced circular connectors and series of ground lugs. The test operator places it on the test bench and connects the mating connectors. Clicking the Test button once produces a result in 2 seconds.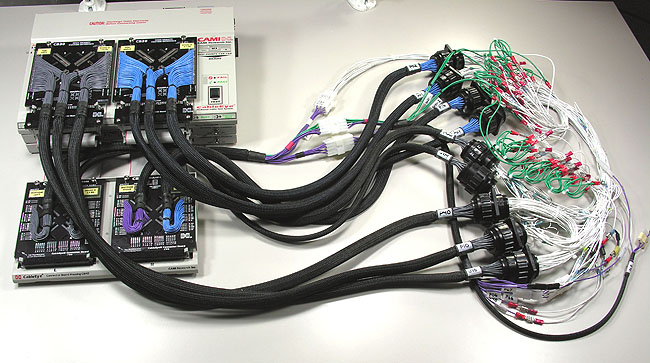 CableEye v5 Cable Harness Graphic Wiring Display
Graphically show the harness wiring with connectors and components. Screen buttons near each connector let you change the direction of view to orient the connector either into the pins or into the terminations. Connector images may be dragged to change position or side of the screen. Highlight wires or resistors for high-speed continuous testing to check for intermittent connections.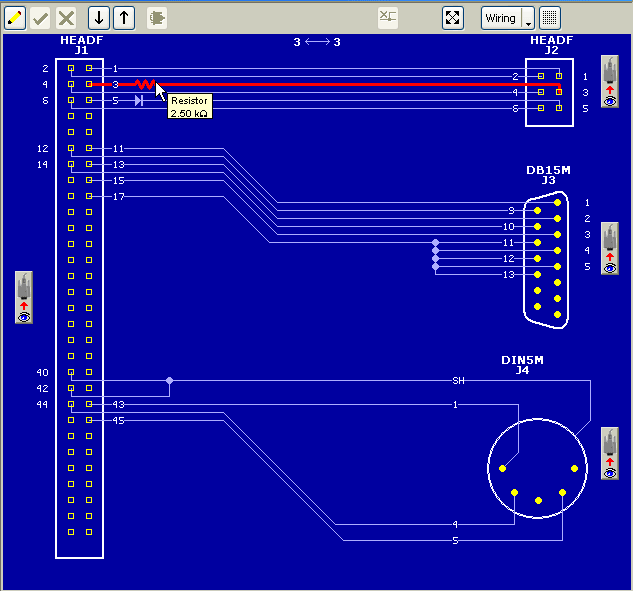 Advanced Netlist Display
The same data appearing in the graphic display above appears here in a more traditional netlist display. Show value, tolerance, and wire color, add a description, reorder connector columns as desired, resort pin numbers by any connector, and reformat multi-connector columns as a single to-from list if desired.