Item 760C
Previous Item | Next Item
CB30C Connector Board
LFH-160 Connectors
Shown Actual Size
NOTE: 384 Test Points Required!
Configuration
For 160-pin Molex LFH™ (low-force helix) connectors. Because of the complex and dense nature of these connectors, we do not advise customer-installation unless proper wave soldering equipment is available. Note that these mating connectors are expensive and may require some lead time to obtain.
Molex Connector Part Number (two required): 71624-1003
Mating connector is Male for Female Cable Connector
Important: These CB30B boards are daughter boards intended to mount on a set of CB30s (see Photo 2 below). Plan on ordering a set of CB30s with the CB30CB if you do not already have a set.
Set of two boards with four 64-pin latch headers. Requires 384 test points and a set of CB30 boards. Note that the latch headers supplied with the CB30C should be mounted to the CB30 boards to accommodate the 64-pin sockets on the bottom of the CB30C; CAMI Research will configure this for you if the CB30s are ordered at the same time as the CB30C.
Connectors Not Included: Solder Service1 available.
2 Expansion Module Required: Two (2). Not Compatible with M2U-Basic.
2 Set of two boards.
1 SOLDER SERVICE: We mount connectors that you supply. Test is only possible, and included, if you are able to supply us with test cables. Test cables will be returned. When ordering connectors, choose post length suitable for 0.093" thick PCB - the thickness of all CAMI CB boards. Contact us for pricing.
Voltage Rating
Rated for operation up to 500 Vdc/ac.
Can be certified for operation at the maximum rated voltage for a service fee (Item 626).
1 - CB30C Board with a 160-pin LFH Connector Soldered in Place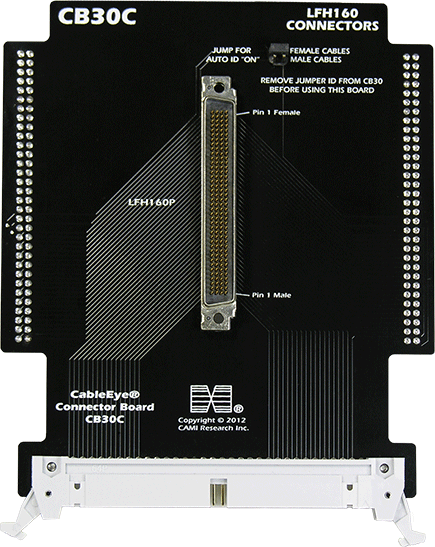 ---
2 - CB30C Mounted on a CB30 Board.
The down-facing latch header on the CB30
connects to an expansion module.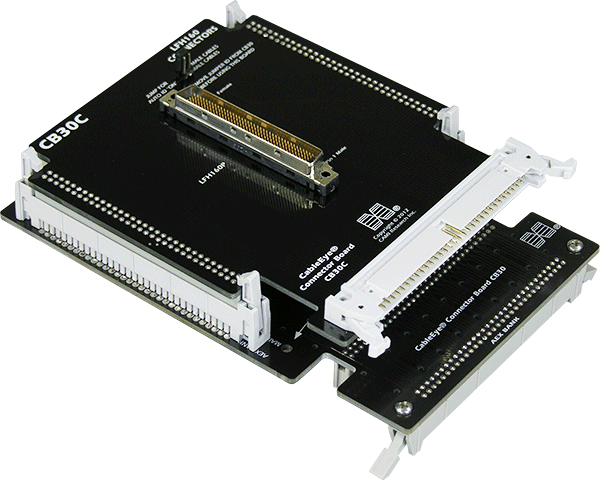 ---
3 - Attachment of the CB30 board to an expansion module.