Items 829, 829A, 828, 828A, 832, 833, 829X
Previous Item | Next Item
CableEye® HVX & HVX-21 Test Systems
for Continuity, Resistance, Capacitance, Twisted Pair, and High Voltage Testing
Applies Voltage up to 1500 Vdc / 1000 Vac (HVX), or 2100 Vdc / 1200 Vac (HVX-21)
Measures Resistance between 0.1 Ω and 1 GΩ (HVX), or 0.1 Ω and 5 GΩ (HVX-21)
128 Test Points, Expandable to 1024 (HVX), 512 (HVX-21)
Plus 24 Accessory Test Points
miniDIN8 Socket for Remote Control, DB9 Socket for Probe/Minihooks
Tests to Industry Standard A620B Guidelines
For diagnostic and Pass/Fail Testing
Tests for insulation resistance and dielectric breakdown after checking for opens, shorts, miswires, & resistance limits
Options available for precision resistance measurement (4 Wire Kelvin) and twisted pair checks
---
HVX (Item 829), HVX-21 (Item 829A)
Click for More Images and Expanded Description

HiPot Testers Data Sheet
Photo: CableEye HVX Series High Voltage Test System with CB2 Board Set (option)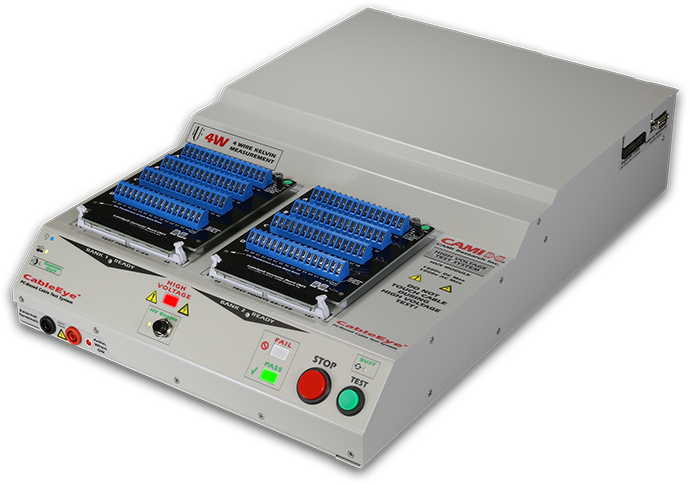 Universal power input of 100-240Vac, 60W maximum.
Requires two USB channels, and Windows WIN7 or later.
Compatible with touchscreen and laptop PCs.
Weight: 13 lbs (5.9 kG), Size: 12.5" wide, 18.5" deep, 3" high.
Includes one-year RENEWABLE warranty with one year free tech support and software upgrades.
---
CableEye HVX Series Expansion Module (Item 828)

Photo: CableEye HVX Series High Voltage Test System
with one Expansion Module and CB29 Board Set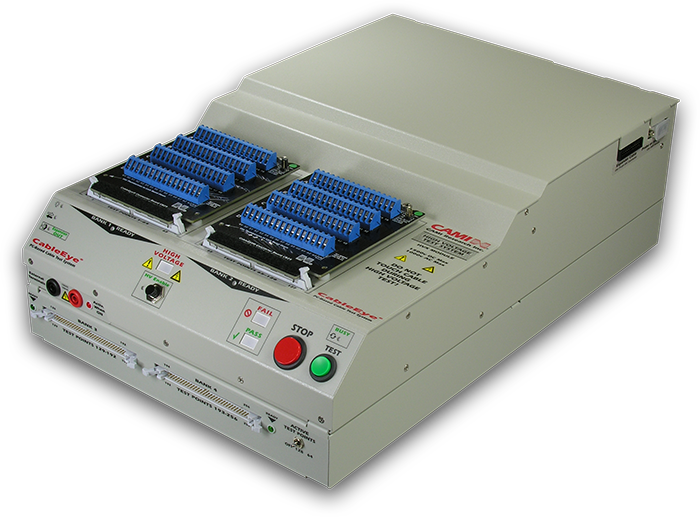 The HVX Expansion Module (item 828) adds 128 test points to a CableEye HVX series system. Up to 7 expansion modules can be connected for a total of 1024 test points, including the HVX system. This unit has two 64-pin header connectors that can be used with our QuickMount™ Housing (item 712). You can also connect them directly to your fixture using 64-conductor flat cables.

Existing HVX series testers can be upgraded by adding one or more expansion modules up to 7 expansion modules for the system in total (retrofit fee applies).
---
Remote control option (item 829X)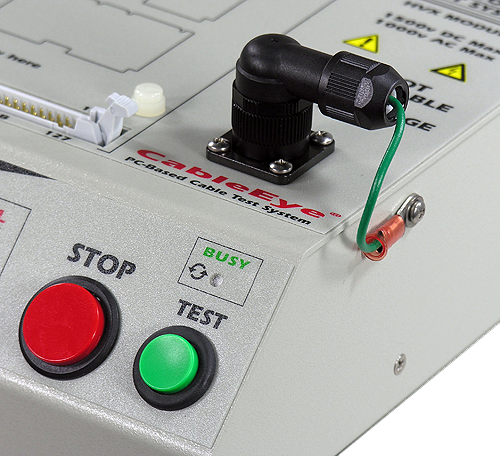 Dummy plug (included) is required for normal control. Replace dummy plug with external cable leading to your own controls when remote is used. Matching connector identical to that shown for dummy plug is included with this option for wiring to your remote cable.

Existing HVX series testers can be upgraded with the remote control option (retrofit fee applies).
---
Adds expanded testing for contact and wire resistance as low as 1 mΩ. After checking for opens, shorts, miswires, and resistance limits, the 4-wire Kelvin measurement applies a user-selectable test current from 100 mA to 1 A to determine connection resistance within 1 mΩ. The resistance profile of a model cable may be stored and used as a basis of comparison during later testing to reveal cold solder joints, faulty crimps, recessed pins, pin contact contamination, improper wire gauge, and stress-extruded wire.
Four-wire measurement eliminates any effect of fixture resistance to obtain a precise value of the unit under test (UUT) resistance only. The same high-accuracy measurement may be obtained with a short fixture attached directly to the tester, or with a large wire harness fixture that may extend a considerable distance to reach the UUT. Users may optionally set up a high-current stress test for wiring by driving up to 1 A of current through each conductor, and setting a dwell time from 100ms to 3 minutes. Increasing resistance during the dwell period may show problems not detected with a shorter measurement interval.
Individual conductors within a UUT may be independently disabled from 4-wire or high voltage test by user selection to avoid potential damage to fuses or other sensitive components. Users may also independently set different test currents for each conductor.

Existing HVX series testers can be upgraded with the 4-wire measurement option (retrofit fee applies).
---
Item 833
Advanced Measurements






The Advanced Measurements Option Reports Twist Pairing with the Wire Resistance Results
The Advanced Measurements Option provides increased (x5) 2-wire resistance resolution, and the measurement of capacitors, wire pair capacitance, twisted pair testing, and cable length. Refer to specifications for more detail.

This option must be ordered at the time of purchase of the control module. It cannot be added as an upgrade to existing HVX testers.