Standard Connectors
Our removable connector boards support most common connectors. Mix and match boards to obtain just the right connectors for the cable you need to test. Slide the board into guide posts on the tester and press down to insert (this takes 3 seconds). Press the latches apart to remove. Each board includes between 4 and 12 connectors, or has open positions for connectors you supply, depending on the type. We sell boards in sets of two, with the price of a typical set at $235.
Each CB board typically requires 64 test points, so most two-ended cables can be tested with a 128-point system. Some boards with large connectors may require and expansion module.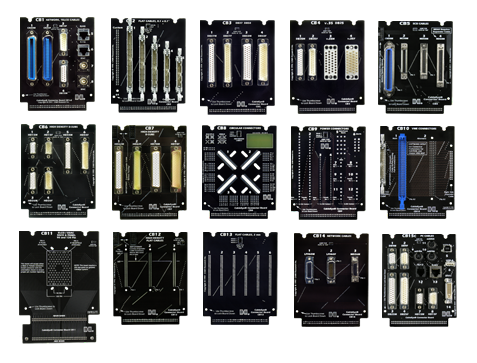 CB Boards
We build these boards on 0.093"-thick PCB laminate (50% thicker than standard printed circuit boards), for rugged use and extra long life. We specify that all Dsub connectors have machined pins to maximize connector lifetime (standard Dsub connectors have stamped pins, which are hollow). When a connector wears out, you may easily change it at your location with a proper desoldering tool, or return it to us for same-day-turnaround repair.
Examples from our current catalog of over 60 boards appear on the left. Try our board finder to locate exactly the boards you need. We develop new connector boards frequently, so contact us if you need something not found in this list.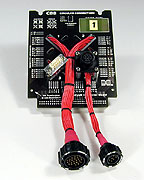 Unusual Connectors
Use our CB8 board (Item 738) to mount circular connectors, pigtails, oddball connectors, or anything you may need to interface. Each board comes with a kit of screws and standoffs. Easily attach wires between the connector pins and pads around the board. Boards may be disassembled and reused. Slots in the board's center will accept brackets on many connectors, or drill and rout your own footprint. See more applications.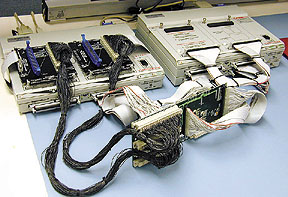 Wire Harnesses
Link custom interfaces for wire harnesses, equipment cabinets, or PC boards directly to the tester with 64-conductor IDC flat cable. Connector boards need not be used in this case. Our PinMap™ fixture editor software (Item 708) with probe lets you easily configure your custom interface for any test point assignments you need and apply custom labels to each pin. Use the AutoBuild™ software (Item 728) for guided assembly to ensure that the harness is assembled correctly the first time. See more applications.