News Release
CableEye® 2100Vdc Screw Terminal Connector Board, CB29H
Apr 6, 2016

CAMI Research Inc. (Acton, MA) announces another new board for its CableEye cable and harness testing systems. Populated with four 16-pole screw terminal blocks, the board addresses high voltage (HiPot) testing to 2100Vdc/1200Vac. Of particular interest to the harness testing market, the CB29H is also available as a transition board variant (CB29AH).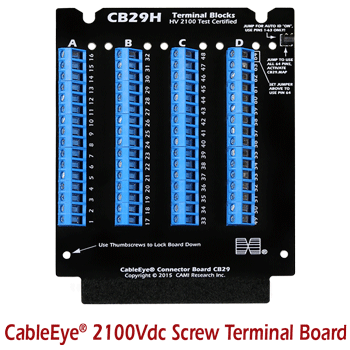 Configuration
A leader in development of PC-based Cable & Wire Harness Test Systems for over 20 years, CAMI offers the CableEye suite of Low and High Voltage products complete with accessories including connector boards. The selection of boards is constantly growing and is currently numbering over 60 – most of which are populated with 'families' of connectors. These connectors are shown graphically correct with CableEye's standard dynamic user interface.

The CB29H and CB29AH boards are high voltage versions of the CB29 with the high voltage traces running on inner layers to afford additional safety, and protection from contamination. Each contains four 16-pole screw terminal blocks that will accept bare wires from 12- to 30-gauge in size. The metal jaws firmly grip an inserted wire without damaging or distorting the end, and the space between each terminal block may be used as a wire channel to guide wires neatly to the side. For each channel, a pair of holes is provided through which wire ties may be inserted to hold the wire bundles in place.

The CB29AH serves as a transition board between wire harness mating connectors and the CableEye tester and is intended for use with an AMPMODU discrete wire extension cable. The board is mounted on or under a harness board loom, and may be stacked for greater capacity.

Sold as a set of two boards, each test board may be paired with other CableEye adapter boards to accommodate any combination of connectors. A bare board option, CB29HB, is also available if you wish to add your own terminal blocks or use, for example, as an adapter cable interface. The board footprint includes hole patterns for both 5mm (0.197") hole spacing for each of the four rows, so any type of terminal block with this spacing can be accommodated.

Application
Customers requiring this board typically have products that are being HiPot tested above 1500Vdc, and include those prototyping and manufacturing harnesses.
Warranty
Connector boards are included in CableEye's standard, renewable one-year warranty of the tester for which it was purchased.
Availability & Domestic US Pricing
Available immediately, a CB29H set is $295 (Item 759H), a CB29AH set $295 (Item 759AH), and a CB29HB set $245 (Item 759HB). The AMPMODU extension cable (Item 863A) is $95 for a 1ft length. For additional lengths, add $6/ft.


Contact sales@camiresearch.com or +1 (978) 266-2655 for a quote.

Note: Prices are USA only and subject to exchange rates, freight and import costs. Contact your local authorised distributor for local pricing.
CAMI Research produces expandable and upgradable diagnostic Cable & Harness Test Systems for assembly, prototyping, production, and QC of standard or custom cables. CableEye® Testers display, and document basic electrical properties such as continuity, resistance, dielectric breakdown, insulation resistance, miswires, and intermittent defects.

CableEye®
CableEye is an expandable and upgradable diagnostic and Pass/Fail Cable and Harness Test System that's PC-based. It's used for assembly, prototyping, production, and QC of standard or custom wire cables and harnesses, and comes in six models ...

Low Voltage: M2U-basic, M2U
For diagnostic and Pass/Fail Testing - Find, display, log, & document: continuity (opens, shorts, miswires), and intermittent connections

Low Voltage: M3U, M3UH
For all of the above plus resistance (contact, isolation, embedded), and diodes (orientation, forward voltage, reverse breakdown).

Low Voltage and High Voltage: HVX, HVX-21
For all of the above plus HiPot (dielectric withstand voltage and insulation resistance).
Free 2-Week Trial
Experience CableEye first-hand. See how your own cables and connectors can be auto-detected and accurately represented on our graphic-rich, touch screen compliant GUI. Find cable problems fast, and understand why customers tell us "... we can not live without CableEye" (Kabelservice), declaring it the "... best, easiest to use, system" (Digital Video Products).
Limited availability

Schedule your Free Trial now!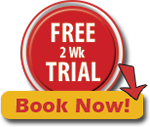 No credit card required. No commitment to purchase.