News Release
CableEye® 4-Wire Calibration Verification Board, CB52
Feb 15, 2016

CAMI Research Inc. (Acton, MA) announces another new interface board for its CableEye cable and harness testing systems. Populated with precision resistors it allows users to determine empirically whether the HVX optional, add-on, 4-Wire measurement function requires calibration.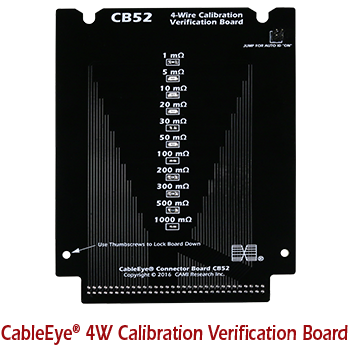 Configuration
A leader in development of PC-based cable and wire harness, continuity and hipot test systems for over 20 years, CAMI offers the CableEye suite of products complete with accessories – including connector boards. The selection of these test fixture boards is constantly growing and is currently numbering over 60 – most of which are populated with 'families' of connectors. The CB52 attaches to the tester like a regular connector board.

Sold as a SINGLE board, the CB52 contains a series of eleven precision low-value resistors for checking against the system's calibrated values. The precision resistor values span a significant enough range to provide complete confidence of valid calibration.

Note that this is a 'Plug & Play' interface, requiring NO 4-wire fixturing to operate.
Application
The CB52 is intended for periodic calibration verification of the Kelvin 4-wire resistance measurement module – an optional, add-on module that may be purchased with any new hipot system, or added to an existing high voltage tester as an upgrade. To ensure that 4-wire resistance measurements remain accurate, CAMI recommends running the verification check every quarter. A 4-wire measurement module that is out of calibration will give inaccurate results. Some (maybe all) resistance measurements will be incorrect. Consequently, it may Pass what should Fail and, conversely, Fail what should Pass. In other words product yield will be contaminated due to unreliable measurements.

Companies interested in quality product and maximum yield will ensure their testers are calibrated. Those with quality certifications such as six sigma or ISO9001 will be required to calibrate. The CB52 will allow these quality-focussed companies to optimally determine when calibration is necessary and to schedule maintenance accordingly.
Warranty
All connector boards are included in CableEye's standard, renewable one-year warranty of the tester for which it was purchased.
Availability & Domestic US Pricing
Available immediately, a CB52 is $195 (Item 782).

Contact sales@camiresearch.com or +1 (978) 266-2655 for a quote.

Note: Prices are USA only and subject to exchange rates, freight and import costs. Contact your local authorised distributor for local pricing.
CAMI Research produces expandable and upgradable diagnostic Cable & Harness Test Systems for assembly, prototyping, production, and QC of standard or custom cables. CableEye® Testers display, and document basic electrical properties such as continuity, resistance, dielectric breakdown, insulation resistance, miswires, and intermittent defects.

CableEye®
CableEye is an expandable and upgradable diagnostic and Pass/Fail Cable and Harness Test System that's PC-based. It's used for assembly, prototyping, production, and QC of standard or custom wire cables and harnesses, and comes in six models ...

Low Voltage: M2U-basic, M2U
For diagnostic and Pass/Fail Testing - Find, display, log, & document: continuity (opens, shorts, miswires), and intermittent connections

Low Voltage: M3U, M3UH
For all of the above plus resistance (contact, isolation, embedded), and diodes (orientation, forward voltage, reverse breakdown).

Low Voltage and High Voltage: HVX, HVX-21
For all of the above plus HiPot (dielectric withstand voltage and insulation resistance).
Free 2-Week Trial
Experience CableEye first-hand. See how your own cables and connectors can be auto-detected and accurately represented on our graphic-rich, touch screen compliant GUI. Find cable problems fast, and understand why customers tell us "... we can not live without CableEye" (Kabelservice), declaring it the "... best, easiest to use, system" (Digital Video Products).
Limited availability

Schedule your Free Trial now!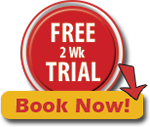 No credit card required. No commitment to purchase.