News Release
CableEye® 64-Pin Header Isolator™
Feb 10, 2018

CAMI Research Inc. (Acton, MA) has released a new 64-pin Header Isolator™ for its CableEye automation-ready, cable and wire harness test systems. Recommended when there is a need for repeat connection and disconnection of test fixture cables, it allows users to minimize bent pins and wear of the headers on the main unit, expansion modules, and free-standing QuickMount™ housings. The device may be used with any CableEye model and is rated to 500 Vdc/ac.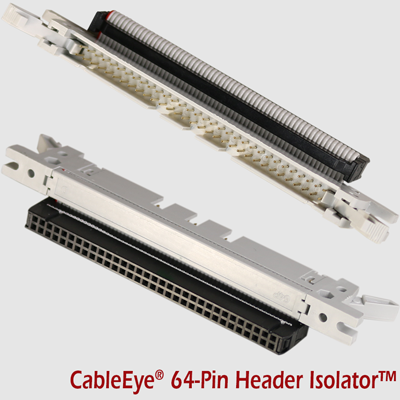 Configuration
A leader in development of PC-based cable and wire harness, continuity, resistance and hipot test systems for over 20 years, CAMI offers the CableEye suite of products complete with accessories – including plug-in connector boards. The selection of these test fixture boards is constantly growing and is currently numbering over 60 – most of which are populated with families of connectors. When pre-populated boards are used, the tester GUI automatically displays a graphic of the connectors under test. The tester can be programmed to do the same for custom boards and fixtures.

For wire/cable test interface connections only, this new device attaches to any tester header in the same quick and easy way as CAMI connector boards. The CB25A solution (Item 755A, rated to 500 Vdc/ac), which attaches to headers only on the main unit or QuickMount housings, can be used with either wires/cables or CAMI connector boards. For higher test voltages (up to 1500 Vdc/1000 Vac) we offer Item 778A for base unit (i.e. top deck) and QuickMount headers and Item 778B for expansion module headers.

Warranty
Connector isolators are included in CableEye's standard, renewable one-year warranty of the tester for which they are purchased.
Availability & Domestic US Pricing
Available immediately, the header isolator is sold as a set of two for $38 (Item 868). Test fixture cables are not included.

Contact sales@camiresearch.com or +1 (978) 266-2655 for a quote.

Note: Prices are USA only and subject to exchange rates, freight and import costs. Contact your local authorised distributor for local pricing.
CAMI Research produces expandable and upgradable diagnostic Cable & Harness Test Systems for assembly, prototyping, production, and QC of standard or custom cables. CableEye® Testers display, and document basic electrical properties such as continuity, resistance, capacitance, dielectric breakdown, insulation resistance, miswires, and intermittent defects.

CableEye®
CableEye is an expandable and upgradable diagnostic and Pass/Fail Cable and Harness Test System that's PC-based. It's used for assembly, prototyping, production, and QC of standard or custom wire cables and harnesses, and comes in six models ...

Low Voltage: M2U-basic, M2U
For diagnostic and Pass/Fail Testing - Find, display, log, & document: continuity (opens, shorts, miswires), and intermittent connections

Low Voltage: M3U, M3UH
For all of the above plus resistance (contact, isolation, embedded), and diodes (orientation, forward voltage, reverse breakdown).

Low Voltage and High Voltage: HVX, HVX-21
For all of the above plus 4-Wire Kelvin Measurement and HiPot (dielectric withstand voltage and insulation resistance).
Free 2-Week Trial
Experience CableEye first-hand. See how your own cables and connectors can be auto-detected and accurately represented on our graphic-rich, touch screen compliant GUI. Find cable problems fast, and understand why customers tell us "... we can not live without CableEye" (Kabelservice), declaring it the "... best, easiest to use, system" (Digital Video Products).
Limited availability

Schedule your Free Trial now!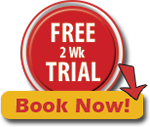 No credit card required. No commitment to purchase.