News Release
CableEye® HiPot Cable & Harness Test System, HVX-21
Aug 4, 2015

CAMI Research Inc. (Acton, MA) announces an addition to its CableEye cable and harness testing system suite, specifically to the HV product line. The HVX-21 extends the HiPot test voltage range to 2100 Vdc and 1200 Vac permitting detection of even more subtle defects.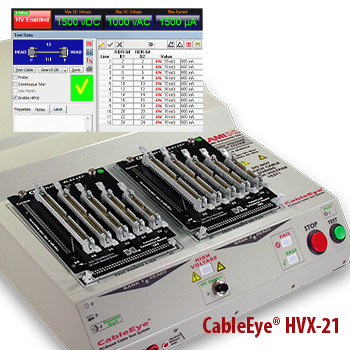 HVX-21
Introduced at the 2015 Wire Processing Technology Expo, the HVX-21 differs from the HVX in having 40% greater maximum DC, and 20% greater maximum AC test voltages. In addition, the current sensitivity is 5x higher allowing detection of the same insulation resistance at far lower voltages to minimize the risk of insulation or surface damage.

These extended range capabilities permit testing to meet many of the more stringent requirements of commercial and aerospace applications.

Industry Standards
Like the HVX, the HVX-21 easily handles all electrical testing requirements of the IPC/WHMA-A-620B guidelines, in addition to the most exacting reporting requirements of government-contracted and ISO 9000-style certified companies.
Optional Extras
Expansion module (Item 828), +128TP/module attaches in a stacked configuration.
4-Wire Kelvin test feature (Item 832) for expanded testing of contact and wire resistance to as low as 1 mΩ. Helps reveal cold solder joints, faulty crimps, recessed pins, pin contact contamination, improper wire gauge, and stress-extruded wire.
HV remote socket (Item 829X) for extending HV emergency stop, and HV-Enable function to an external, custom-designed panel used when mounting the system in an inaccessible cabinet.
The HVX-21 (Item 829A) is $7995 (Domestic US Price), and includes CableEye's standard one year Warranty which is combined with free tech support and free software upgrades.


Contact sales@camiresearch.com or +1 (978) 266-2655 for a quote.

Note: Prices are USA only and subject to exchange rates, freight and import costs. Contact your local authorised distributor for local pricing.
CAMI Research produces expandable and upgradable diagnostic Cable & Harness Test Systems for assembly, prototyping, production, and QC of standard or custom cables. CableEye® Testers display, and document basic electrical properties such as continuity, resistance, dielectric breakdown, insulation resistance, miswires, and intermittent defects.

CableEye®
CableEye is an expandable and upgradable diagnostic and Pass/Fail Cable and Harness Test System that's PC-based. It's used for assembly, prototyping, production, and QC of standard or custom wire cables and harnesses, and comes in six models ...

Low Voltage: M2U-basic, M2U
For diagnostic and Pass/Fail Testing - Find, display, log, & document: continuity (opens, shorts, miswires), and intermittent connections

Low Voltage: M3U, M3UH
For all of the above plus resistance (contact, isolation, embedded), and diodes (orientation, forward voltage, reverse breakdown).

Low Voltage and High Voltage: HVX, HVX-21
For all of the above plus HiPot (dielectric withstand voltage and insulation resistance).
Free 2-Week Trial
Experience CableEye first-hand. See how your own cables and connectors can be auto-detected and accurately represented on our graphic-rich, touch screen compliant GUI. Find cable problems fast, and understand why customers tell us "... we can not live without CableEye" (Kabelservice), declaring it the "... best, easiest to use, system" (Digital Video Products).
Limited availability

Schedule your Free Trial now!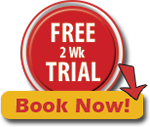 No credit card required. No commitment to purchase.