News Release
CAMI Research Releases M3Z Low Voltage Multi-Conductor Cable Tester
A Complete Cable Management System
Sept. 24, 2020

CAMI Research Inc. (Acton, MA) manufacturer of the CableEye ® brand of automation-ready cable and harness test systems, has released the model M3Z low voltage test system. In addition to checking for opens, shorts, and miswires, the M3Z allows measurement of the quality of connections, resistors, diodes, and other measurement functions including for complex network and backplane applications. Measure 0.1Ω to 5 MΩ, and use the fixture-nulling feature to automatically subtract the resistance of your test interface fixture. The control module has 128 test points plus a further 24 accessory test points and expands as needed to 2560 + 24 test points. The system includes a miniDIN8 socket for remote control, DB9 socket for probe/minihooks, and a 24-pin header for an expander cable. The M3Z ships with comprehensive, automation-ready software that allows for tester management, troubleshooting, pass/fail testing, and testing of any product volume and mix from prototyping through to batch testing.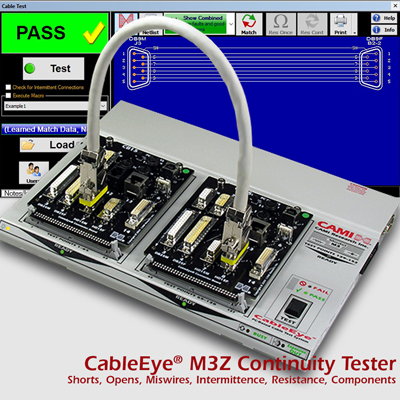 Configuration
A leader in the development of PC-based cable and wire harness test systems, CAMI offers the CableEye suite of products complete with accessories – including auto-detected, plug-in connector boards for fast, convenient set-up and testing of standard cables. When pre-populated and pre-configured boards are used, the software automatically displays a graphic of the connectors in addition to the wiring under test. The tester can be readily programmed to do the same for custom boards and fixtures. These boards are designed to fit all CableEye testers.

With a single click, the wiring schematic switches to a customizable netlist view which can be set to display wiring colors. In both views, a large PASS/FAIL indicator is clearly visible and distinctive audible tones are played.

Each test board may be paired with other CableEye adapter boards to accommodate any combination of connectors. An incredibly versatile test system, CableEye testers are expandable to accommodate large and complex harnesses, and users can connect, and configure them in numerous ways — set up an array of QuickMount™ housings fitted connector boards, plug custom interface cables directly into any of the 64 pin headers on the control and expansion modules, or use a test interface panel, perhaps on a rack-mounted system. Not just for testing, CableEye systems provide complete cable management offering features not available on any other cable test equipment, and may be used to test unlimited types of connectors.

The M3Z determines connectivity in cables and wire harnesses and also allows you to check the quality of those connections by finding non-optimal resistances caused by cold solder joints, certain types of crimp defects, improperly-seated connector pins, and intermittent connections. Settable resistance thresholds allow you to set thresholds for maximum permissible connection resistance, and minimum isolation resistance between unconnected wires. For connection resistance, set the low threshold to as little as 0.1 Ω, and for isolation resistance, set the high threshold as high as 5 MΩ. Typical thresholds for general-purpose testing would be 5 Ω maximum for connection resistance, and 1 MΩ minimum for isolation.

Use the included comprehensive software to select one particular wire connection in a cable and make continuous resistance measurements at up to 10 cycles per second on that conductor while you flex the cable to look for bad connections. The entire cable may be scanned for intermittent connections at a faster cycle rate if you wish to do a general test for bad connections that may result from motion or flexing. Measure embedded resistors from 0.1 Ω to 5 Ω. Measure diodes and resistor/diode combinations, and automatically learn networks of diodes and resistors for comparison against electronic modules with similar networks.

You may use the tester for Guided Assembly with our optional AutoBuild™ software: Operators receive wire-by-wire assembly instructions to speed cable assembly and minimize errors, or connector pinning instructions with our optional Light Director™ light-guided assembly accessory.

The M3Z control module has 128 test points plus a further 24 accessory test points and can be expanded up to 2,560 +24 test points by connecting expansion modules (128-points per module). An expansion upgrade can be ordered any time. The active test points are controlled through software, eliminating the toggle switch found on previous models.

Additional features include a remote control socket to be used for either an optional external footswitch or for a custom remote control to extend panel indicators and test button, and an accessory socket for a probe or minihook connectors. A probe comes with this tester and works with our software to identify unterminated wires. Use an optional wrist strap in place of the probe to identify wires with the touch of a finger.


M3Z Software
The M3Z ships with comprehensive, automation-ready software that allows for tester management, troubleshooting, pass/fail testing, and testing of any product volume and mix. Touch-screen compatible, the software provides maximum flexibility for the widest range of test needs: From prototyping and R&D through to batch testing, from High Mix Low Volume (HMLV) through to Low Mix High Volume (LMHV):
Set up measurement, reporting (e.g. documentation), networking, and log-in requirements.
Block unauthorized access and unauthorized changes to stored data and scripts.
Design, debug, and test automation scripts created with simple built-in macros. Activate scripts with barcode reader to automate testing and ensure consistency: Control tower lights, lock and release latches, diverter gates, label printers and more.
Set up complex automation tasks with built-in JavaScript.
Create pop-up windows for operator work instructions. Follow displayed instructions and photos to set up and test batches of cables and automatically generate labels and reports.
Design First-Article cables and modify others.
Set up electrical- or light-guided assembly for fast error-free connector pinning and harness assembly with the optional AutoBuild™ software module and Light Director™ hardware and software accessory bundle.
Link custom test fixtures to CableEye software using the optional PinMap™ fixture editor software module.
Manage integration with other test instruments using the optional Applications Programming Interface (API) software module: Control the M3Z with your custom GUI software interface, LabView™, Visual Basic®, Visual C++®, and Visual C#® scripting languages or Microsoft®.NET™ framework.
With single-click or barcode reader activation, enable the Production Mode to display only a limited set of essential controls and information to the production worker.
Update the software anytime with a simple download and ensure your test system remains current.
Industry Standards
All low voltage CableEye systems easily handle low voltage electrical testing requirements of the IPC/WHMA-A-620 guidelines in addition to the most exacting reporting requirements of government-contracted and ISO 9000-style certified companies.
Warranty
All new testers ship ready-to-use with a renewable one-year warranty that includes free tech support and software upgrades.
Availability & Domestic US Pricing
Available immediately, the M3Z (Item 826) starts at $2,395 USD and includes automation-ready operating software, a standard connector board set (CB15C), and probe.

Contact salesREMOVE@REMOVEcamiresearch.REMOVEcom or +1 (978) 266-2655 for a quote.

Note: Prices are USA only and subject to exchange rates, freight and import costs. Contact your local authorized distributor for local pricing.
Trademarks
CableEye®, the CableEye Logo, PinMap™, AutoBuild™, Light Director™, QuickMount™ are trademarks of CAMI Research Inc.
LabView™ is a trademark of National Instruments. Neither CAMI Research, nor any software programs or other goods or services offered by CAMI Research, are affiliated with, endorsed by, or sponsored by National Instruments.
Visual Basic®, Visual C++®, Visual C#®, Microsoft®.NET™, Windows®, Windows® 7 are trademarks of Microsoft Corporation.
CAMI Research produces expandable and upgradable diagnostic Cable & Harness Test Systems for assembly, prototyping, production, and QC of standard or custom cables. CableEye Testers display, and document electrical properties such as continuity, resistance, capacitance, dielectric breakdown, insulation resistance, miswires, and intermittent defects.

CableEye ® Automation-Ready Cable and Wire Harness Test Systems
CableEye testers are highly versatile, expandable and upgradable diagnostic and Pass/Fail check Cable and Harness Test Systems that are PC-based. They are used for assembly, prototyping, production, and QC of standard or custom wire cables and harnesses The entire suite of products is powered by the same easy-to-use operating software and, with the help of its signature easy-to-interpret color-coded graphics, instantly identifies not only when there is a fault, but what type of fault and where.

Low Voltage M2 Series
For diagnostic and Pass/Fail Testing - Find, display, log, & document continuity (opens, shorts, miswires, intermittent connections).

Low Voltage M3 Series
For all of the above plus resistance (contact, isolation, embedded), and diodes (orientation, forward voltage, reverse breakdown).

Low Voltage M4 Series
For all of the above plus precision resistance (4-wire), and capacitance (twist wire relationship, length of cable, length to break, capacitors).

Low Voltage and High Voltage HVX Series
For all as described for M3 plus HiPot (dielectric withstand voltage and insulation resistance). 4-Wire Kelvin Measurement and Advanced Measurement Options (capacitance, twist wire relationship, length of cable, length to break, capacitors) are available.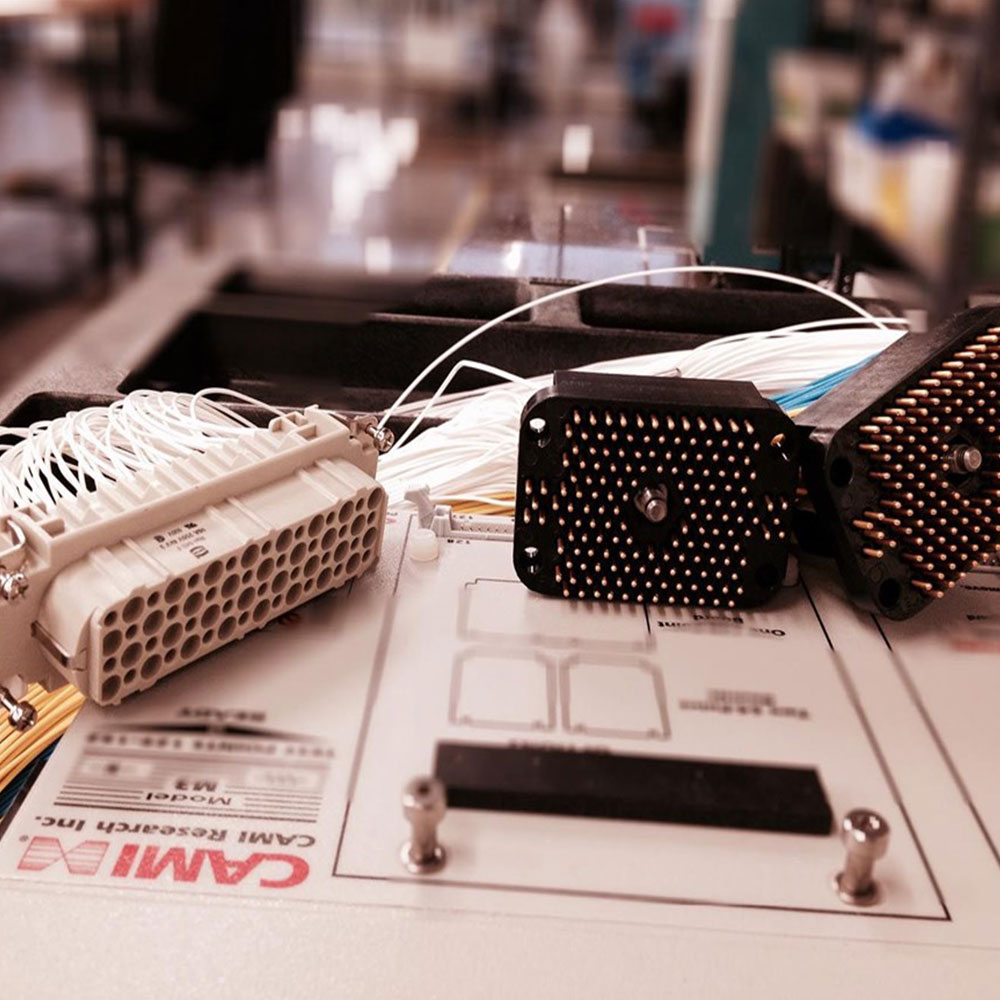 photo credit: Progressive Image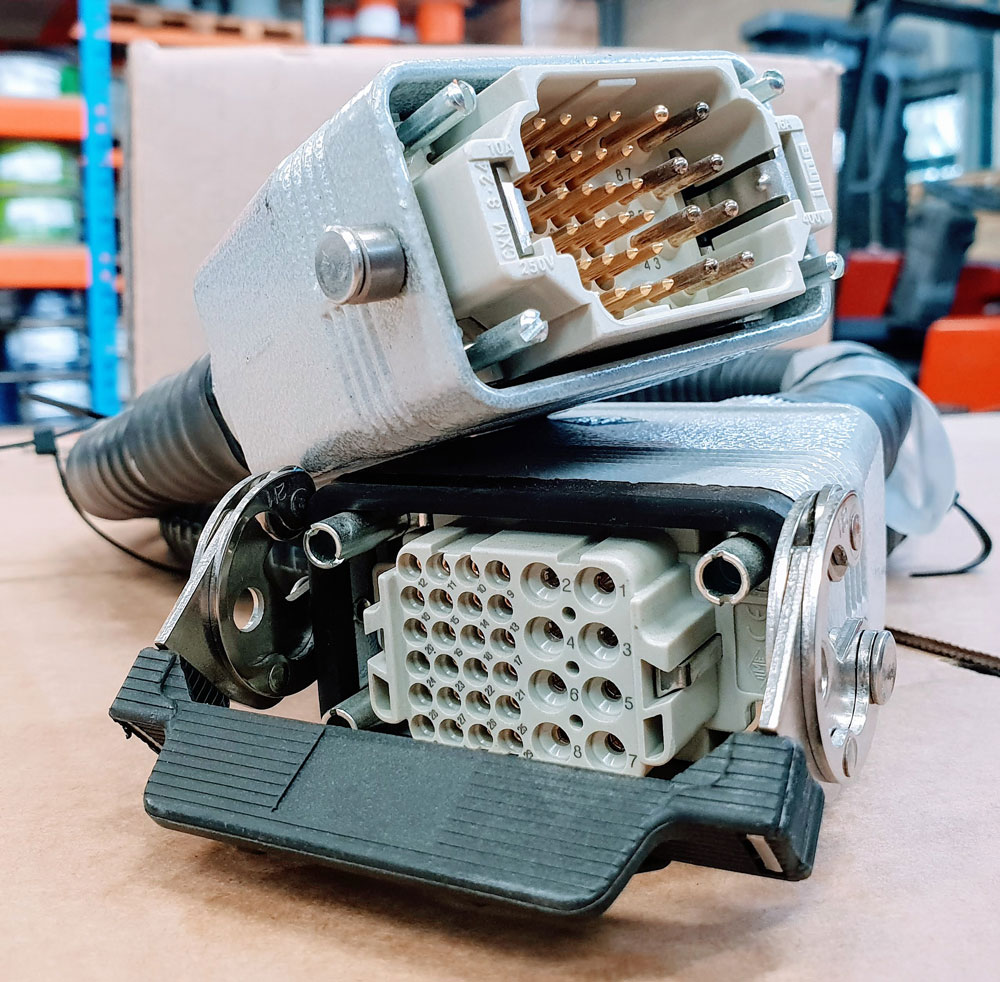 photo credit: AP Technology
"Our production guys find it simple to setup and use. Our clients love it as it provides complete traceability for each and every cable assembly we manufacture."
AP Technology, UK