Item 742A
Previous Item | Next Item
CB12A Connector Board
High-Density IDC Flat Cables
Shown Actual Size
NOTE: Expansion Module Required for Connectors Larger than 60 Pins!
Configuration
Test high-density flat cables with IDC wiremount sockets (0.025" wire centers, 0.050 x 0.050" pin centers). May also be used with surface-mount connectors having either 0.050 x 0.100" or 0.050 x 0.050" leg spacing. Three 80-pin positions are available on each board. Standard header sizes are: 80, 68, 60, 50, 40, 34, 30, 26, and 20 pins.
Connectors Not Included: Solder Service1 available.
1* Expansion Module Required: One (1) only when pincount > 60. Not Compatible with M2Z or M2U-Basic when pincount > 60.
2E Set of two boards with expander cable.
1 SOLDER SERVICE: We mount connectors that you supply. Test is only possible, and included, if you are able to supply us with test cables. Test cables will be returned. When ordering connectors, choose post length suitable for 0.093" thick PCB - the thickness of all CAMI CB boards. Contact us for pricing.
Voltage Rating
Rated for operation up to 500 Vdc/ac.
Can be certified for operation at the maximum rated voltage for a service fee (Item 626).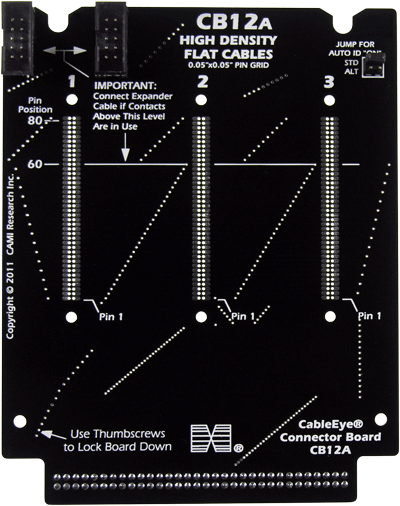 Pads Spacing