Item 732
Previous Item | Next Item
CB2/B/BB Connector Board
Flat Cables, Ribbon Cables with 0.1" Centers
Shown Actual Size
Configuration
Use to test flat cables with IDC wiremount sockets. The CB2 board includes dual-row headers for 60, 50, 40, 34, and 26 pins (see CB2A, Item 732A for small header sizes). One 64-position footprint is open for a User-supplied custom size. Substitute bare headers (CB2B, Item 732B) or no headers (CB2BB, Item 732BB) for shrouded latch headers on special order.
2 Set of two boards.
Voltage Rating
Rated for operation up to 500 Vdc/ac.
Can be certified for operation at the maximum rated voltage for a service fee (Item 626).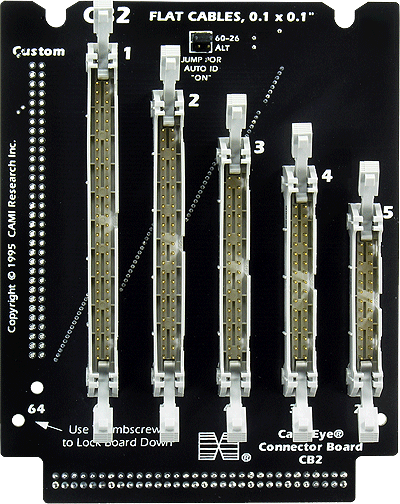 CB2 | Item 732 | Shrouded Latch Headers Included
CB2B | Item 732B | Bare Headers Included | Jumpers Not Included