Item 738
Previous Item | Next Item
CB8 Connector Board
Accomodates Panel- and/or Cable-Mounted Connectors, and LIF Test Blocks
Configuration
This generic board accepts a wide range of circular or other connectors, and accommodates panel- and/or cable-mounted mating connectors as well as LIF test blocks. While a bulkhead connector mounted directly to the board produces a more compact interface, a cable-mounted solution would be preferred if the test cable consists of heavy-gauge wire or is bulky. Mount your bulkhead connectors using the included kit of standoffs and screws (photo below). Any panel-mount circular connector with four mounting holes fits the "X"-pattern slots. Holes may be drilled in the board to accommodate other mounting arrangements. Connector pins are wired to labeled pads surrounding the board. Connectors of up to 62 pins can be accommodated. Mount up to four small circular connectors (mounting hole spacing < 0.9"), or one large connector (mounting hole spacing < 2.3"). Bare area provided for custom labeling such as a bar code.

When the wiring is displayed, a generic dual-row header is shown, and a jumper setting on the board determines whether lettered or numbered pin labels are used. Use the optional PinMap™ fixture editor software (recommended for this board) to choose a better, connector-specific graphic from the CableEye connector library, and to assign custom pin labels. To create a graphic not yet in the connector library, use the Connector Designer ™ connector editor software.

Use two CB8 boards together, or a CB8 in combination with any other CB board or built-in connector to accept any cable type. See CB30 for a higher pin-capacity variant (128 pins).
Connectors Not Included: Customization Service Available (Item 899C). See photos of custom CB8 applications.
2 Set of two boards.
Voltage Rating
Rated for operation up to 500 Vdc/ac. For higher voltages, order the CB8H (Item 738H) which is rated up to 2100 Vac/dc.
Can be certified for operation at the maximum rated voltage for a service fee (Item 626).
Customized Example
Configured with bulkhead
and cable-mounted connectors.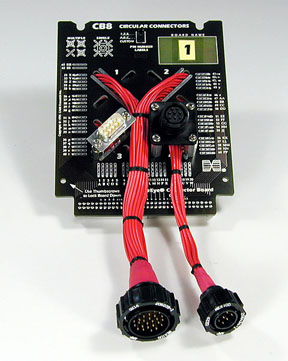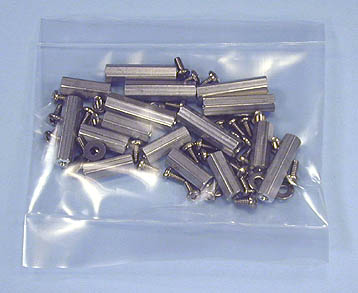 Included Kit of Standoffs and Screws