Item 759A
Previous Item | Next Item
CB29A Connector Board
Transition System for Wire Harness Assembly Boards
64 Screw Terminals with 0.200" (5mm) Spacing



\
Configuration
This variation of the CB29 board serves as a transition board between wire harness mating connectors and the CableEye tester. Mount the CB29A on or under a harness board, terminate the mating connectors to screw terminals on this board, and connect the 64-pin right-angle headers to the tester using 64-conductor flat cable (see Item 854, not included). Stackable, as shown in the photo. Includes kit of screws and standoffs.
2 Set of two boards.
Voltage Rating
Rated for operation up to 500Vdc/ac with flat cable, or 1500Vdc/1000Vac with Ampmodu cable.
Can be certified for operation at the maximum rated voltage for a service fee (Item 626).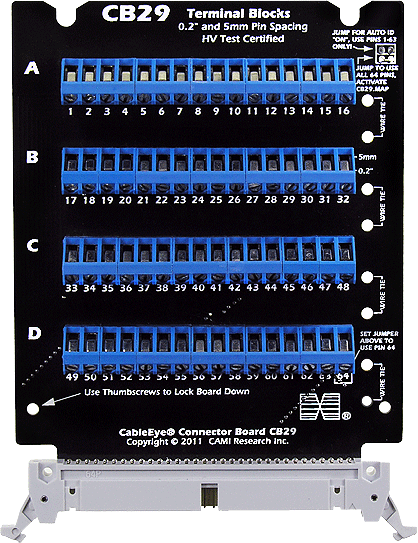 This board will be shipped with either blue or black connectors, depending on availability.