Testimonials:
Why our Customers Choose CableEye® Cable Test Systems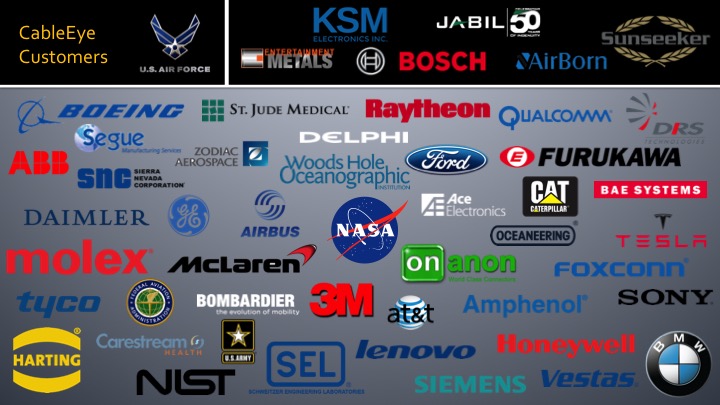 Who Wrote These?
These comments come directly from Users of CableEye® cable and harness test systems. We would like to share them with you to help establish the value of our products. If you wish to discuss CableEye cable test products first-hand with people who have been using it on a daily basis, we will happily provide a reference list with some Users in your area; just give us a call!
Tel: +1 978-266-2655.
GE Aviation
Our CableEye Tester is working perfectly. We've also tested the Import/Export, PinMap ™, Connector Editor ™, and AutoBuild ™ software. We really enjoy the versatility and capabilities of this tester and haven't found anything else that matches its functionality. Cable/harness build and test times have gone from days to hours and Quality Control has increased. We were using outdated wire checkers and measuring a lot of cables/harnesses by hand using a DMM. Now it feels like we've zoomed into the 21st century. The CAMI Research support staff is fantastic, friendly and quickly responded to any queries we sent them. Can't say enough about the product.
JH
GE Aviation

Nature of Business: Aerospace
Dec 16, 2022
ADVINT
I wanted to pass on that you and your team are excellent to work with. It is not often that I have the pleasure to work with a group that is as receptive, talented, and hardworking as you and your team. Your excellent support staff helped me figure out why the software wasn't working for one peculiar function. Additionally, I think you offer a great product that has gone a long way in improving our ability to meet customer demands.
JM
ADVINT

Nature of Business: Automated test and data acquisition systems for military and Original Equipment Manufacturer (OEM) applications
Dec 9, 2022
Chentronics
We received the tester yesterday afternoon and have it up and running this morning. Download went perfect! I wanted to thank you and your coworkers for all your help. Top Notch professionals.
KM
Chentronics

Nature of Business: High energy ignition products for oil and gas industries
Dec 8, 2022
JST France
CableEye product improved our elecrical harness testing over our million parts serial mass production constraint where even a small rejection rate is equal to a large amount of scrap and miss detection is equal to expansive sorting.
The software, with its levels of customizing and automation, enables us to monitor production and understand the electrical testing which was previously almost a "black box". Javascript automation enables unlimited customizing of the CableEye system (message to operator, label printing, counters per type of defects/ways....). Operators quickly identify defects, positions and deviations over limits. Technical department staff understand parametering and easily manage data, programs and are able to solve shutdown with minimal delay.
Product is reliable even running without a dedicated filtered/cooled cabinet on a shop floor in a dusty/hot environment . Service in case of shutdown is good, and continuous improvement of this range of device solved the issue we had.
GV
JST France

Nature of Business: Electronic Component Manufacturer
Apr 12, 2022
Test Products Incorporated
The CableEye product has been a vital tool for our company since it has been deployed. Prior to using the CableEye system, we would validate harnesses and test connector products by using a multimeter or a tone box. This is a slow process and could take up to 30 minutes or more just for one harness or connector. In addition, the products were checked by two departments to validate continuity. With the CableEye tester, this has been reduced to a couple of minutes with the longest part of the test being the connecting of the cable to the tester. Additionally, the process of having two departments validate the product has been reduced to one department. This saves manpower and hours that can be reallocated to other tasks. Thank you for a wonderful product and support.
MH
Test Products Incorporated

Nature of Business: Electrical test equipment for the transportation industry
Nov 23, 2021
Northcomm Technologies
Cable testing is one of those "not glamorous" aspects of manufacturing. For us, it was a manual process that was just burdensome and time consuming. I had been considering a CableEye tester for years. Once we had the unit, I was just angry at myself for not getting it years sooner. Not only did the CableEye tester save us countless hours a week in testing time, we are now able to produce wonderful test documents that we ship with each finished assembly. Our customers love test data. Being able to provide this data for our multi-conductor product line has been a true enhancement to our product and our brand. However, and perhaps most importantly, the support we have received from CAMI has been excellent. Post sales support has made a great product truly excellent.
MD
Northcomm Technologies

Nature of Business: Public Safety Communications Components and RF Products
Sep 10, 2021
Heitek Automation
I am extremely pleased with the M4 CableEye cable tester we recently purchased. It was very fast and easy to implement and use. Being in the automation field, everything is connected together with cables and building high-quality custom cables for our customer's applications is a breeze thanks to our CableEye tester. There must be man-years of engineering behind it as there are so many helpful and thoughtful features available at your fingertips. Connect it, learn it and then test your production cables. It's that easy. Having and using this cable tester brings incredible peace of mind to our organization - that the cables are wired correctly and are the highest quality possible.

CAMI Research's customer service is also second to none. I know that they are there to guide me if I have a question about a feature I haven't already used and am working to implement.

I personally volunteered my testimonial because I feel so strongly about CAMI Research and their products.
EJ
Heitek Automation

Nature of Business: Automation Solutions for Medical, Machine Building, Automotive, Semi-conductor, Packaging, Industrial Laundry, Food & Beverage, Printing and Machine Integration industries
Sep 3, 2021
Prodetics
We're really happy with your testers which have helped us grow and become a better company.
AK
Prodetics S.P.R.L.

Nature of Business: Manufacture of cables, wires, harnesses and electrical and electronic assemblies
Mar 18, 2020
Production Resource Group (PRG/VER)
CAMI and the CableEye Software have been very beneficial to our ability to process our gear in a timely manner.
PRG/VER is a full-service production company featuring just about every production discipline. Including Audio, Lighting, LED, Video, Camera, Rigging, and much more. Every piece of equipment will pass through a rigorous "QC" Quality Control process every time it is returned from a job. Making sure each item is "rent ready" in the warehouse is how we help to ensure a flawless production.
The speed and accuracy of the CAMI system is remarkable. We can now process the gear in a fraction of the time it would take without the CAMI/CableEye system in place. The detailed results allow our technicians to interpret the findings quickly and to make quick decisions regarding each item.  Any problem with an item can be assessed and the proper course of action can be determined with ease.
CAMI has been a fantastic partner in this process from inception to implementation with fantastic service. With their tech support and service warranties [Product Support Subscriptions] keeping the software up to date, CAMI has been great to work with all the way.
JK Strategic Asset Director
Production Resource Group

Nature of Business: Entertainment and Event Technology Solutions
Jan 30, 2020
Entertainment Manufacturing Group (EMG)
The EMG CyberShop testing fixtures for the CAMI HVX have been fabricated to allow our customers and other OEM fabrication companies to test the massive variety of custom cable configurations that makes up Entertainment infrastructure. Depending on the specific customer, the type of connector configurations and pinouts may vary from the typical standard – a variability that is easily handled by the CableEye test system. We have chosen to build these on the backbone of the CAMI units due to the extremely versatile software and simplicity of programming, along with the simple Input to the Unit via MODU. We have fabricated a wide variety of custom fixtures, and the flexibility of the CAMI units have allowed for extremely huge pin counts as well as smaller pin share situations. During the manufacturing process we are able to preload industry standard pinouts and cable configurations, and then continually update the database as new needs are required by our customer. The CAMI M3U and HVX units have proven their continued reliability even under the most demanding conditions. These custom testers quickly become the backbone of our customers' QC departments and are literally relied upon to keep their shops running day in and day out.
KK, CEO
Entertainment Manufacturing Group

Nature of Business: Customized metal and cabling products for the Entertainment Industry (audio, video, touring, broadcast, and install markets)
Aug 29, 2019
PVP Advanced EO Systems
I know that this new machine will find weaknesses in the slipring design. I love it. Now I can see where the nets are higher than acceptable continuity values. This is a good thing, since these are from customer returns that are greater than 7 years old. We need to know if they are close to catastrophic failure. This is going to improve our overall customer return quality.

Love this machine!

Your company's fast response to our emails, and subsequent solutions with our CableEye challenges sets you apart from other diagnostic companies I deal with.

The "Can-Do" attitude is quite refreshing.
DR
PVP Advanced EO Systems, Inc

Nature of Business: Imaging systems and components for military, aerospace, and commercial applications
Apr 17, 2019
Integrated Systems Development
First of all, let me express my overall satisfaction for the HVX system, which is up and running since the day we received it. The operation and all the functionalities are as expected, the user interface and workmanship are all superb. The automatic creation of high quality test reports is an excellent feature and saves a great deal of time. We have already tested tens of cables! I must say that we have already declared it as one of the most useful assets in our lab. It is impossible for us to think of testing our cables by using any other piece of equipment than the HVX.
KM
Integrated Systems Development

Nature of Business: Integrated Systems (IS)
Sept 12, 2018
OPTI Manufacturing
We have purchased three systems from CAMI Research (two M3Us and one HVX) in less than a year, and we are still being surprised by everything about CAMI! First is the excellent quality-to-price value. Second, the systems are easy to install, integrate and work with. The diversity of the testing boards and products, including the custom-made connector interface assembly (... excellent service), and the excellent full range of miscellaneous hardware and extras, including the training and validation boards as well the M3U plus HVX calibration kit for a 'do-it-yourself' in-house yearly calibration, are impressive. And finally, the customer service, to put it simply, is quick and outstanding. We are truly very satisfied from A to Z! CAMI Research really delivers!
JA
OPTI Manufacturing Corp.

Nature of Business: Aerospace/Military Custom Wire and Harness Assemblies
Apr 18, 2018
Performance Electronics
The CableEye tester works very well, it didn't take long to set up using the provided documents and online video tutorials. I'm very pleased with how easy it is to use and its performance.
NA
Performance Electronics Ltd.

Nature of Business: Motorsport Electronics
Jan 18, 2018
Paradise Cable Industries (PCI)
We just moved into a larger facility. Our success, in large part, has resulted from the use of your equipment, upon which we rely totally. It's proven to be both dependably accurate and extremely durable.
JB
Paradise Cable Industries

Nature of Business: Custom Cable and Wire Manufacturer
Dec 14, 2017
EMH Motorsports
We use the CableEye test system for assembly, final test, and repair testing. Our ECU conversion kit is a lower cost, higher volume loom, and the CableEye tester has been a key part in making this product a success. It has cut our assembly time by 30%, and because continuity testing is less than a minute (versus an hour with a multi-meter), we can verify construction along the way and eliminate wiring errors before they can get very time consuming to fix.

In general, the CableEye test system ensures that we deliver a quality product to our customers that works the first time it is installed, and helps us contain costs due to an incredibly reduced testing/verification time and the ability to catch mistakes before they can become time consuming to fix. When damaged looms come back to us, the CableEye cable tester allows us to quickly identify whether or not there is a problem, and by being able to identify the circuits that are failing, we can have a good idea where in the loom the problem is located.

Much as their military grade counterparts are, motorsport looms are sealed by using heat shrinkable tubing, epoxy and heat shrinkable boots at the connectors and interfaces. While such a loom can be disassembled to be repaired or reworked, in most cases, it is very time consuming and tedious. It definitely helps to make sure the circuits are correctly wired before final assembly, and being able to isolate the damaged part of the loom avoids wasting time in disassembly of the areas that were actually OK. Quality, time, and cost are three very important factors in motorsport today. You often don't have very much time to develop and build, yet it has to be perfect in order to succeed. Add to this the increasing cost pressures across the industry, and it means that you can't get by without having some ingenuity. The CableEye cable tester helps us ensure we build it right the first time; this makes our customers more successful and saves us time and money otherwise spent in doing it again.
EMH
EMH Motorsports LLC

Nature of Business: Automotive Electronic and Software Systems
Jul 14, 2017
A&S Computer Services Inc.
We were first introduced to CableEye cable testers many years ago by one of our clients. To say the least, CableEye equipment is impressive. CAMI has made this equipment small, efficient, easy to use, and amazingly cost effective. A few months ago, we acquired a CableEye M2 system with an expansion unit, and to say it has made our lives easier would be an understatement. Being without a CableEye system in-house is simply not an option. In addition to testing new cables, this system makes identifying existing cables a breeze. Once you have analyzed your existing cables and stored the results, you just put any cable you want on the tester, and the unknown cable is immediately matched to the database.
DS
A&S Computer Services Inc.

Nature of Business: IT/Network Infrastructure Consulting
Nov 22, 2016
Simco
I want to thank everyone at CAMI for the tremendous support in getting us up and running with our new testers. I have been in the cable assembly contract business for over 30 years and the customer support level offered at CAMI is second to none. The product works as stated and the software is unbelievably easy to use. The conversion process from our old test system to the CableEye M3U systems has progressed at a pace 4x faster than we had anticipated. A pleasure doing business with you guys and we hope to increase our line of CAMI testers in the near future.
GS
Simco

Nature of Business: Contract Cable Assembly
June 21, 2016
Onanon
(From "Smart Assembly & Test" June 2016)

Rapid wire technology to terminate cable assemblies greatly increases yields, and reduces assembly costs. Real-time CAMI wire recognition technology greatly increases productivity … ensuring correct wire to connector placement - all while performing in-process continuity & HiPot testing.
DJ, CEO
Onanon Inc.

Nature of Business: Connector & Cable Assembly Manufacturer
May 23, 2016
Roanwell Corp.
(This message came as a response to custom programming support provided by our principal software engineer)

Thank you very much, that was exactly what we needed.

On an unrelated note, I would like to thank you and Chris for all your help. CAMI Research has some of the best customer support and response times of any of our vendors, and I want you to know that this is truly and sincerely appreciated.
WR
Roanwell Corp.
Bronx, NY

Nature of Business: OEM Manufacturer of Communications Voice Equipment
November 24, 2014
B & C Custom Cabling
I have used your units for several years, that is, when I worked for electronics manufacturing companies in the past. You have an outstanding product, and I say that, because I've seen my share of testing units in the 36 years that I've been in this business, and yours is the most practical, user friendly machine that I have ever used.
CT
B & C Custom Cabling
Houston, TX

Nature of Business: Contract Cable Assembly
June 6, 2014
Precision Interconnect Solutions
I just wanted to say I finally had the delight of using the CableEye HVX system I purchased several months ago on a job. I was testing a cable with 6 connectors and a ring terminal. Creating the test boards was simple and creating the custom connectors in the Connector Editor module was very easy as well as creating the custom CB Board was really neat. I was able to recreate the wiring diagram from the custom almost perfectly as the match data. Sending the match data and a test report with each shipment is our new standard here. I am looking forward to using the HiPot features when the need arises. I have familiarized myself with the HiPot functions enough to know how to change the test specifications but I haven't used it for a job yet. Hopefully soon!

In short, I really appreciate the capabilities the CableEye test system brings, especially the versatility. It was a delight usingthe CableEye tester and I am looking forward to using it more. Thank you for a great product!
MH, Senior Engineer
Precision Interconnect Solutions Inc.
Rochester, NY

Nature of Business: Contract Cable Assembly
August 2, 2013
Imaging Sciences
I always get such fantastic service from CAMI in anything I need, and it is greatly appreciated.
Calibration/QA
Imaging Sciences International
Hatfield, PA


Nature of Business: Manufacturer of Dental X-Ray Equipment
March 8, 2013
Manufacturer of Digital Video Products
We have been using your cable tester for a couple years now, and have determined it is the best, easiest to use, system we have tried. We are specifying that our independent service centers purchase your testers to be able to test cables that ship with our products.
Nature of Business: Digital Video Products
January 2, 2013
Sierra Nevada Corporation
I am reminded every time I have a small issue how good it is to work with you guys. This reinforces the correct decision to use your product in our shop.
MD, Test Engineer
Sierra Nevada Corporation
Space Systems Group
Louisville, CO

Nature of Business: Electronic Systems and Integration
December 20, 2012
Robert Bosch LLC
We are very pleased with the quality of the work you have put into the custom harness interface for us. We had an intermittent cable issue and were able to use the tester this morning with excellent results. Within seconds it found the issue, our technician corrected the problem, and the cable assembly was put back into service with no further issues!

We look forward to doing future business with you.
DC, Senior Technician
Robert Bosch LLC
Engineering Technical Center
Plymouth, MI

Nature of Business: Contractor to the Auto Industry
December 21, 2012
Galaxy Wire and Cable, Inc.
We have used our CAMI CableEye test equipment for over three years. We routinely use it to test over 1,000 test points on an aviation harness and have nothing but positive reviews from our Quality department and more importantly from our customers. The reliability of the equipment allows us to provide our customers with the best possible products. We've also found that the customer service and response time from CAMI Research to be excellent. All in all a company I would highly recommend using.
EL, VP Production
Galaxy Wire and Cable, Inc.
Horsham, PA

Nature of Business: Contract Cable Assembly
January 3, 2012
Vestas Wind Systems
In response to our Change of Address Notice:
Congratulations on the new corporate headquarters. Looks nice.

We are very pleased with our CableEye testers – keep up the good work.
PB, System Engineer, Hardware
Vestas Wind Systems
Hammel, DENMARK

Nature of Business: Contract Cable Assembly
November 24, 2011
LT Tech
In response to our Change of Address Notice:
Thank you for the update. We love your product and have been plugging you often here in the West. Hopefully we'll need more soon!
JF
LT Tech
North Las Vegas, NV

Nature of Business: Contract Cable Assembly
November 23, 2011
Van Zanten Kabelservice bv
For many years we have used to our full satisfaction the M2 CableEye tester. It ran on an old model computer which died recently. Now we have a new PC ready to take over the job and have installed the software from the CD. Nevertheless we are unable to get connected to the test board. Tried all COM ports, preferences set to proper baud rate (both in PC as in preferences), time outs changed etc: still we cannot get connected. Is there perhaps new software available?

I hope you can give me a speedy response… we cannot live without the CableEye tester.
PvZ
Van Zanten Kabelservice bv
Brasem, The Netherlands

Nature of Business: Contract Cable Assembly
December 15, 2010
Picarro, Inc.
Great product. The software is excellent. It took me 5 minutes to train my technicians on the "Learn Cable" and "Test Cable" functions. In 20 minutes, we had the entire team using the machine. Good intuitive interface. The entire system is so easy to use I didn't even crack the manual. Thanks - we should have bought it years ago!
CC
Picarro, Inc.
Sunnyvale, CA 94085

Nature of Business: Manufacture Scientific Instruments
September 16, 2010
IRIS/PASSCAL
The custom test fixture I am building is 95% done . . . I decided to mount the entire system onto a cart so it would be mobile. Right now there are over 30 connectors on the fixture and I am waiting on a few more to complete it.

My goal was to make it easy to use (so people would stop bothering me to test cables for them!) and I succeeded. The software exceeded my expectations more than once in both ease of use and functionality.

Thank you for making this product, it will greatly increase the quality control of cables leaving our facility.
PB
IRIS/PASSCAL
Socorro, NM

Nature of Business: Seismic Applications
April 2, 2010
Handi Quilter Inc.
I just wanted to let you know that we absolutely LOVE the CableEye demo system that you shipped us. After only a few hours of use we have reduced production time by DAYS. The system has already paid for itself. We are excited about the time and money we will be saving by using this system, which is so simple to use that I was able to set it up and train our production crew on how to use it in a matter of minutes.

Thanks for such a wonderful product. We look forward to working with you and your company in the future.
RE, Electronics Design Engineer
Handi Quilter Inc.
Salt Lake City, UT

Nature of Business: Manufacture Computerized Sewing Equipment
January 7, 2010
StarTrak Systems
Editor's Note: We were copied on this e-mail sent by one of our customers to one of their vendors.
Due to the complexity of our harnesses and the number of rejected harnesses we have received from the field miswired, we request that <vendor name> invests in a cable tester. [We will in the future require that] ALL harnesses that which are modified or built at <vendor name> be tested 100%

Our recommendation would be the tester that we use here at our location. The CableEye PC-based cable test system is a well priced set up that practically paid for itself after the first couple of cables we had to inspect. The people at CAMI Research can customize the unit specific to one or many cable assemblies, or the end user can do the same. The time saved is outstanding along with guaranteeing that no failures to slip out the door.
JWC, Director of Manufacturing and Field Services
StarTrak Systems
Morris Plains, NJ

Nature of Business: GPS Tracking Systems for Commercial Vehicles
December 8, 2009
US Department of Defense Laboratory
Editor's Note: We received this message from someone who recently requested literature on our CableEye all-in-one cable test and management systems:
We actually have a CableEye tester in our electronics laboratory here at work. I wound up asking the "previous guru-engineer" for a quick walk-through training course and I found the unit to be essentially intuitive. Once again, I just blew $180.00 on a book from CRC Press that details the various "popular" serial protocols being used on PCs (including RS-232, USB, S-ATA, etc). Your on-line, "free" RS-232 tutorial is every bit up to par with the corresponding portion of the cited textbook. Thanks for making this tutorial available.

"<named cable assembly shop>" has a competitor's cable tester which is free standing only, and does not include the diagramming capability which is available through your interactive PC software. You might want to request that [this company] consider [purchasing] your product, which is superior to their present offering.
An employee at a US Department of Defense Laboratory

Nature of Business: US Defense
February 3, 2009
Delphi Products and Service Solutions
Our CableEye M3U tester has made a huge impact on cable maintenance at our Contract house. Previously, we had to use failure information received from Product Test along with a cable schematic and an ohm meter to troubleshoot. Cable maintenance has improved dramatically.
WB
Delphi Products and Service Solutions
Kokomo, IN

Nature of Business: Manufacture Automotive Component Parts
August 21, 2008
LECO Corporation
I evaluated the CableEye tester version 5 software demo and will be ordering the upgrade soon. The cable tester in our inspection department will find it helpful for identifying cable assembly problems and addressing them with the cable assemblers. Just a click of a button and the location of an open or short can be identified. The problem area can be highlighted and shown with or without the the rest of the cable connections. Also, I like the look of the new test screen. We have used the CableEye model M2 tester for about 10 years and have found it to be a very user friendly piece of test equipment. Thank you for the opportunity to check out the latest software.
SH
LECO Corporation
St. Joseph, MI

Nature of Business: Manufacture Analytical Instruments
March 20, 2008
Space Systems/Loral
I wanted to firstly let you know that the new M3 is quite a hit in the lab and is used daily, if not almost constantly. It was primarily intended to test newly manufactured cables, however it is getting a lot of use helping 'reverse engineer' existing cables from older projects that lack documentation, saving further time and money. It is such a hit in fact that I have a request to look into the possibility of adding two more Item 823 M3-AEX expansion modules to add a total of 256 more points to our existing 512 point tester. Thanks again for your time and patient support. It seems to be paying off in satisfied users more and more every day.
MA
Space Systems/Loral
Palo Alto, CA

Nature of Business: Manufacture Satellites
August 27, 2007
Southcoast Hospital
We have a lot of lab instruments that require custom cable pinouts and we were finding it difficult to identify and keep track of all the cables we use. We got a CableEye tester and love it! It has been making our lives here so much easier when we are trying to figure out the pinouts to all our cables. Quickly identifying and being able to label all our cables was a major selling point for us!
DM
Southcoast Hospital Group, Information Systems Dept.
Fairhaven, MA

Nature of Business: Hospital, IS Dept.
June 25, 2007
NeuMed, Inc.
Thank you for the opportunity to evaluate the CableEye test system. I found the testing system intuitive and well-rounded to serve many applications. . . I once again would like to tell you how impressed I am with your customer service and overall product presentation. Life would be much easier if more of my vendors operated in the same manner.
LD, Production Manager
NeuMed, Inc.
West Trenton, NJ

Nature of Business: Manufacture Medical Equipment
April 5, 2007
EMS Systems
I installed the CableEye tester software on this [Windows 98] computer and it works fine. Learning and testing are fast. Previous tester programming that I have done includes: Everett Charles CV50 (1978), Cirris (1990 to present), Ditmco (2000 to present), and Omnitester (2004 to present), so I am no stranger to continuity testing and even have created tests on Teradyne 18XX and GenRad 22XX In Circuit Testers. The CableEye test system is still simply amazing. I am so glad to have it and will consider buying a new M3 from Cami Research. Now that I know this unit functions as expected I will requisition the connector boards I need for my immediate custom application. Thank you for the topnotch support shown, and an impressive product.
WM, Senior Test Engineer
EMS Systems
Santa Ana, CA

Nature of Business: Contract Electronics Manufacturing
December 28, 2006
Manufacturer of Pipeline Support Equipment
An easy, simple, reliable cable test solution.
TF
Houston, TX

Nature of Business: Manufacture Pipeline Support Equipment
November 1, 2006
Teledyne Tekmar
Because of its flexibility, accuracy, and cost effectiveness, we now have two CableEye M3 systems. We use them for both incoming inspection and the testing of in-house assemblies. The simple and straightforward operation makes training fast and easy for even non-technical personnel

I am especially pleased with the ease with which test beds can be modified for our unusual configurations, including those with diodes and resistors. I have recommended this system to our suppliers.
LA, Manufacturing Engineer
Teledyne Tekmar
Mason, OH

Nature of Business: Manufacture Satellite Communications Electronics
May 11, 2006
Peterson Manufacturing
We have an in-house Automation team that designs, engineers, fabricates, and integrates all projects. The CableEye cable tester from CAMI Research was an off-the-shelf solution for a cost-effective price, that accomplished everything we envisioned, without us having to reinvent the wheel.


WA, Automation Manager
Peterson Manufacturing Co.
Grandview, MO

Nature of Business: Manufacture Automotive Wiring Harnesses
May 3, 2006
RESCO Electronics
We purchased our first CableEye test system in June 1995 replacing our Cablescan tester. This has proven to be an excellent decision! We have very few problems with the equipment, and most problems that occur are corrected over the phone in a call to Tech Support. In one case, someone spilled a liquid on the tester, we returned the unit and received it back repaired within 24 hours. Test adapters are in stock and shipped in one or two days from the purchase date. CAMI Research provides excellent service on a product that is essential to our business. The CableEye tester is like the company, continually improving. Our latest unit was purchased in 2005 and as we grow we intend to purchase additional test stations.


ED, Value-Added Manager
RESCO Electronics
Baltimore, MD

Nature of Business: Contract Cable and Harness Assembly
April 28, 2006
OEM Manufacturer
While releasing a product with many different cables, we experienced a high percentage of failures in the cables. The CableEye test equipment, with its easy setup, allowed us to quickly test incoming cables, identifying the faulty ones. We were able to reduce our failure rate to an acceptable level.


KS
Wakefield, MA

Nature of Business: OEM Manufacturer
April 26, 2006
Hewlett-Packard
I am extremely impressed with the CableEye software, hardware, and documentation. The user interface is easy to use with the CD video instruction package.

I had to adapt a different cable set to the CableEye tester using a custom break-out box for different cable types. The CableEye test system was able to detect and store combinations of cable wiring even using the same connector end for two different cables. Very easy to use.

Chris was very helpful and patient answering questions while setting up the CableEye tester. I would recommend this product to anyone who needs a very dynamic and reliable cable tester.


BR
Hewlett-Packard Co.
Corvallis, OR

Nature of Business: Manufacture Computers and Computer Products
August 2, 2005
Parisi Associates
I would like to personally thank you along with CAMI Research for the introduction to and our eventual purchase of the CAMI CableEye test system. As a contract manufacturer we had an inefficient method of testing cables. Your product has streamlined our test efforts and created a market for Parisi to pursue new cable opportunities.

We find the equipment easy to learn, 100% efficient and most of all creates a hardcopy backup for customers and in-house inspection.

I additionally appreciate your quick response and knowledgeable service. Thank you again for the CableEye tester.


JMC, President
Parisi Associates, Inc.
Burlington, MA

Nature of Business: Electronics Contract Manufacturer
July 7, 2005
Kirtland AFB
The CableEye tester is an amazing piece of equipment. It has proved invaluable for troubleshooting cable problems, especially intermittent connectivity issues.


TW
Kirtland AFB, NM

Nature of Business: Military Contractor
February 23, 2005
Positron Corporation
We are very impressed with the design and versatility of the CableEye cable tester. The technical support is second to none. We are also pleased with CAMI's willingness and ability to support those who are working with unique testing requirements. I strongly recommend this cable testing system!


RS, President
Positron Corporation
Elkhart, IN

Nature of Business: Wire Harness Assembly
January 12, 2005
Vandenberg AFB
The CableEye test equipment has shown us problems in our systems that we did not even know we had. As a result of finding and addressing these problems, our systems are working better and more reliably than ever before.


EB
Vandenberg AFB, CA

Nature of Business: Military Contractor
January 4, 2005
Syron Engineering
Just had a chance to use the diode test ability of the CableEye test equipment. We developed a new adapter for use between NPN and PNP sensors that has an LED and a current blocking diode in circuit. The CableEye tester did a great job of mapping it out and saved us the hassle of building yet another test box for the assembly room. Thanks.


JC, Electrical Technician
Syron Engineering LLC
Saline MI

Nature of Business: Industrial Automation Products
October 13, 2004
Ace Electronics
It's unbelievable that Ace Electronics is just now replacing/upgrading a tester which we purchased from CAMI Research over 10 years ago. As one of New Jersey's largest cable assembly houses, we really put these products to use. I think it's a real testament to you and your firm as to the quality and durability of your product. Our operators have grown so attached to the tester that they hated to see it replaced. Amazingly, the operators were able to learn the new Windows-based software you shipped us with the demo M3 model rather quickly and really liked the improvements you've made over the years.

Again, I just wanted to thank you and everyone at CAMI for helping us over the years by making our productivity and quality stand out among the industry. I believe this is now the 7th tester which we've purchased from CAMI and each one has surpassed all our expectations.


NP, Director of Operations
Ace Electronics, Inc.
Metuchen, NJ

Nature of Business: Contract Cable Assembly
August 17, 2004
JAB Engineering
I purchased a system a few years ago when I worked at CCS Packard/PerkinElmer in Torrance, CA. I am in business for myself now and am considering purchasing another one. It was a good product and worked even after it was drowned by a leaky roof.


JB
JAB Engineering
Long Beach, CA

Nature of Business: Contract Engineering
August 3, 2004
Consumer Products Safety Commission
The device is indeed everything you have said it is. Functionality, diagnostics, graphics, and ease of use are superb. I was very pleased with this device as were many technicians, scientists, and engineers.


JHG
Consumer Products Safety Commission
Gaithersburg, MD

Nature of Business: US Government Agency
July 27, 2004
Adaptex
We find the CableEye cable tester to be an excellent testing and fault identification tool


GO
Adaptex
Sydney, Australia

Nature of Business: Manufacture Telecom Equipment
May 14, 2004
Clinical Dynamics
We chose the CableEye tester for its ability to handle cables with embedded resistors and diodes. It has performed quite well for us. The ability to adjust thresholds was critical as we have R values ranging from 3.3 ohms to 9.1 Megohms as well as diodes embedded. It has not disappointed.

The only problem we encountered was with an embedded IC which could look like a diode facing either direction (depending on the will of the electron Gods that day). Before I could call for help, CAMI notified us of a new software release. It allows me to account for this and not have the operator 'ignore' the error (nice mind reading CAMI).

This has proven to be fast, efficient and very good at finding intermittents which it nicely identifies to the pin level. I find this device to be a winner all around.


TD
Clinical Dynamics
Wallingford, CT

Nature of Business: Manufacture Biomedical Test Equipment
April 29, 2004
PrimeSource
The decision of PrimeSource management to acquire a CableEye cable test unit was in fact a very smart move. As the Quality Assurance Manager, also in charge of electrical testing of all PrimeSource products, I find the employment of the CableEye tester on our production floor has given us tremendous relief in man-hours and testing credibility. I no longer worry about the man-hours we will have to spend in performing point-to-point continuity testing of all our cables, harnesses, and other electrical assemblies that we supply to the telecommunications industry. With the CableEye test system, the man-hours spent for testing was dramatically reduced by about eighty percent (80%). Much more importantly, the level of confidence in the tests we are performing on our products is 100%. The CableEye tester for me is a lifesaver.


EG, Quality Assurance Manager
PrimeSource
Windsor, CA

Nature of Business: Contract Manufacturing
October 30, 2003
Contract Engineering Company
Only a few minutes with the evaluation unit were sufficient to sell us on the unit. It's compact, user-friendly, and very flexible. The documentation is excellent, and the software already anticipated all the requirements of our application. We were up, running, and set for production in no time.


DF, Dallas, TX

Nature of Business: Contract Engineering
July 31, 2003
Beckmann Technologies
We received the unit in good order very quickly. My whole staff was amazed at how quickly the equipment was set up and operational. The associated software was very easy to learn, to use, and to maintain. You really have an excellent product.


RB, President
Beckmann Technologies, Inc.
Durham, NC

Nature of Business: Manufacture Auto Electronics
March 17, 2003
Copar
The CableEye Model M2 cable tester was very easy to setup and understand. It works well and training was simple.


JD
Copar Corp.
Burbank, IL

Nature of Business: Manufacture Industrial Measuring Instruments
March 18, 2003
OEM Manufacturer
Your product is Great! We documented all of our cable configurations with a minimum of effort.


JC, Roselle, NJ

Nature of Business: OEM Manufacturer
March 17, 2003
Miltary Contractor
My complicated custom-made cable has five Dsub connectors. Each connector has up to 30 wires attached. It had taken me at least 30 min to perform a continuity check on all lines. Now, with the CableEye test system, it checks for continuity and shorts in seconds. The Continuous Test function is very useful for cables with intermittent failures.


NL, Phoenix, AZ

Nature of Business: Miltary Contractor
April 3, 2003
C-Cubed Corporation
Our CableEye M3 has been invaluable in increasing the productivity of the QA Department in our electronics production lab while raising the bar on our already high standards of quality and consistency. The M3 performs more continuity and resistance inspections than we were feasibly capable of doing by hand. Most of the systems we produce are original, custom configurations and the versatility of the M3 system, with it's customizable boards and PinMap fixture editor software, has proven to be in incredibly valuable asset to our team of inspectors.


RJ, Lead QA Inspector
C-Cubed Corporation
Saint Inigoes, MD

Nature of Business: Contract Manufacturing
June, 2002
Kidde Dual Spectrum
The PC-Based Cable Test System "CableEye" by CAMI Research coupled with the "PinMap" fixture editor software has given me the tools needed to quickly and concisely implement a custom harness testing system. This system has drastically reduced the time needed to program and test for Quality Assurance.


WS
Kidde Dual Spectrum
Goleta, CA

Nature of Business: Contract Manufacturing
June 14, 2002
Protean Instrument Corporation
The product was easy to set up and is extremely versatile in tests that it can perform. Training of our personnel was quick and painless due to simple operation of the CableEye test system.


GDW
Protean Instrument Corporation
Lenoir City, TN

Nature of Business: Manufacture Instrumentation for Power Utilities
May 15, 2002
Unisource Assembly
The CableEye tester has been a great asset to our cable production area. It has improved both quality and efficiency. A very valuable tool.


RL
Unisource Assembly Corp.
Amery, WI

Nature of Business: Contract Assembly
May 21, 2002
Adcole
Adcole Corporation purchased a CableEye cable tester in March, 2002, and has been very pleased with the system, and more specifically with the ease of operation. The CableEye tester cuts dramatically the time it takes a technician to wring out or trouble-shoot a faulty cable. The CableEye system produces a clear and comprehensive schematic and pin-to-pin list of cable connections that enables the tester to analyze the structure of most any cable quickly and easily. The software for the CableEye system is well thought-out, user friendly, and has some very useful options.


BL
Adcole Corp.
Marlborough, MA 01752

Nature of Business: Manufacture Optical Instrumentation for Spacecraft and Industrial Applications
March 2002
KPIX-TV
The ease of use and low horsepower computer needs allows us to take the CableEye tester anywhere. We are able not only to ensure that new cable installations are good, but can troubleshoot existing cable runs on site.


RV
KPIX-TV
San Francisco, CA

Nature of Business: Television Broadcast
August, 2000
Velocity Manufacturing
The best technical support of any piece of equipment on our assembly floor! Extremely flexible piece of equipment.


JBs
Velocity Manufacturing
Exeter, NH

Nature of Business: Contract Manufacturing
August 8, 2000
OEM Manufacturing
We have been using the AutoBuild™ guided assembly option to the CableEye M3 tester while crimping and populating non-color-coded wires into high pin count connectors. Not only are our assembly times much shorter using AutoBuild guided assembly software, but also any wiring errors are caught and remedied as soon as they are made. We can be certain the product is correct before it ever leaves the assembly station. For the investment, the CableEye tester with AutoBuild guided assembly adds tremendous value!


JAS.
Carlsbad, CA

Nature of Business: OEM Manufacturing
February 26, 2002
Flir Systems
We have two identical 512 test point CableEye testers. We have made special adapters to test system backplanes and micro slip-rings used on infrared and day cameras mounted on various airborne and maritime vehicles. The PinMap fixture editor software allowed us to easily set up and modify our custom interface. These testers are used daily and have performed flawlessly. A great investment for the money.


DB
Flir Systems Inc.
Nature of Business: Contract Manufacturing
March 8, 2001
Fargo Electronics
We use the CableEye tester to test custom cables for our ID card printers. The ease of use is just what we were looking for. To be able to edit the database without losing the programs is a real plus, unlike our other tester. We have seen a significant increase in production and product reliability since using the CableEye tester.


EP
Fargo Electronics
Eden Prairie, MN

Nature of Business: Printer Manufacturing
August 8, 2000
Department of State, Diplomatic Telecommunications Service
The first we heard about CAMI was in October, 1998. We obtained one for testing shortly thereafter and became instant converts. From then to now, we have used the CableEye test equipment to test and document the interface cables used in our installations. We have discovered and corrected errors in both local and factory produced cables using the CableEye tester. It is fashionable to use "proactive" in almost every context, but this is truly a "proactive" product in that it provides certain and concrete documentation about cable connections. It takes the guesswork out. Wouldn't be without it.


RG
Department of State, Diplomatic Telecommunications Service
Fairfax, VA

Nature of Business: Government Communications
August 11, 2000
RAMP Industries
Our CableEye system is easy to use, does all we ask and does it well. Support from CAMI has been superb. They have provided prompt and effective solutions for every question we have had!


PA
RAMP Industries Inc.
Binghamton, NY

Nature of Business: Contract Manufacturing
August 10, 2000
Tower Products
The CableEye tester has helped us in more ways than one.

The CableEye test system finds intermittent cable connections instantly, a real time saver. Cable has enabled our QC department to perform a faster and more precise test of our cables. The CableEye tester gives a hardcopy report for diagnostic documentation of customer's cables.


CF, Manufacturing and Production Manager
Tower Products, Inc.
Saugerties, NY

Nature of Business: Audio and Video Products Manufacturer and Distributor
August, 2000
KSM Electronics
At KSM, we have been using CableEye test equipment for over three years and have three complete systems. Our personnel have found the systems very User friendly, even personnel without computer experience have found the CableEye systems easy to use. We are also the first company to use CableEye software with Windows 2000; it works flawlessly on our computers. I would recommend this system to anyone needing to test long runs of production cables.


GP, Quality Engineer
KSM Electronics
Fort Lauderdale, FL

Nature of Business: Contract Cable Assembly
August 16, 2000
Servicepower
As a new user of your CableEye tester I would like to congratulate you on the product, both in the facilities it offers and its ease of use - we have been very impressed. We have used other makes of test equipment over the past 14 years and can say that yours is by far the best we have seen.


MJ
Servicepower Ltd.
Shipley, West Yorkshire
England

Nature of Business: Data and Telecom Cable Manufacturer
June 26, 2000
Bittree
The CableEye cable test and mangement system has streamlined our quality control process. It allow us to perform complex continuity tests in a few seconds with repeatable capabilities. The custom test boards and Pin Maps created by their technical department have even added to our diversity.


BC
Bittree Inc.
Glendale, CA

Nature of Business: Professional Audio Products
September 8, 2000
Phillips Communications
Our CableEye tester makes it possible for us to almost instantaneously test assemblies we build in our integration department. It has also saved us in expenses on lost inventory by enabling us to identify unmarked cables. Great product! Very cost effective!


WD
Phillips Communications Inc.
Ruckersville, VA

Nature of Business: Communications Equipment Manufacturer
August 31, 2000
Compro Computer Service
We are a repair facility for super-mini computers, not a manufacturing facility. Our use of your cable tester is mostly to test cables in assemblies that are in for repair. Occasionally we have to make new ones. There is no doubt that the CableEye test system has saved thousands of dollars in repair time. The software has been easy to use and we've never had any trouble in that area. As far as tech support, we have no idea because we have never had an issue with anything. Great product. Thanks.


MH
Compro Computer Service
Melbourne, FL

Nature of Business: Computer Repair Service
September 12, 2000
Lantronix
Lantronix has found many uses for its CableEye test system. The following is a list of some of these applications:

1 - QA Testing
2 - QA Design Verification
3 - Engineering Testing
4 - Engineering Design Verification

We are extremely pleased with the CableEye system and would highly recommend it to other organizations.


VG
Lantronix
Irvine, CAL

Nature of Business: Network Interface Equipment Manufacturer
September 15, 2000
Square-D Company
The CableEye M2 System has become an integral part of our troubleshoot/rework function. Its ease of use and intuitive software interface has literally cut hours of valuable technician time down to minutes. This product will easily pay for itself many times over . . .


CS, Senior Test Engineer
Square-D Company
La Vergne, TN

Nature of Business: Power Monitoring and Control Equipment Manufacturer
September 14, 2000
Electric Products Manufacturing
This letter is to recommend the CableEye wire harness test system to anyone considering a purchase of this type of test equipment. The principle attribute that serves Electric Products Manufacturing, Inc. is the ease with which our assembly operators learn the system. It only takes a 20-minute training session and some unsupervised time with the machine and our operators are up to speed.

They virtually train themselves. I find that our operators come back to management with ideas on how we can improve the quality of our products through the use of the CableEye system. Even the most novice operator immediately recognizes the utility of the CableEye system. In our market niche our customers expect perfect quality. This means 100% inspection of all production no matter the lot size. The CableEye system is our front line of defense against non-conforming material ever getting out of our plant. Our customers comment regularly that Electric Products Manufacturing, Inc. produces very reliable results. The system is totally reliable and has never needed service attention. Our product test work center is PC based and this is the other reason that we selected the CableEye system. Utilizing industry current DeskTop computing power and the very reliable interface that the CableEye system provides creates a flexible and scalable product quality system. Oh by the way, our customers are very impressed with our choice. We have won a lot of business as a result of having the CableEye system.


RA, President
Electric Products Manufacturing, Inc.
Shoreview, MN

Nature of Business: Contract Manufacturing
September 12, 2000
Cable Connections and Supplies
The CableEye test system has greatly increased our productivity. Testing between different types of connectors with many points is made simple by just changing the boards. Customers are very impressed with custom printed cable specs. in just seconds.


JG
Cable Connections and Supplies Inc.
Coraopolis, PA

Nature of Business: Contract Cable Assembly
September 14, 2000
Worswick Industries
We purchased our CAMI CableEye tester in 1998. Since using the tester, our Quality Control department has had fewer failures and they are able to get our cables out faster. Whenever we've had any questions or problems, CAMI Research technical support has always been there to meet our needs.


RB
Worswick Industries
San Diego, CA

Nature of Business: Contract Cable Assembly
October 23, 2000
Quality Computer Accessories
The CableEye cable tester has made testing various cables and connectors a real treat. Prior to purchasing our CableEye system, QCA needed to build several adapter type test fixtures. Now with the CableEye test system and CAMI's constant development of test boards, we've been able to easily test cables that had been a chore. We would recommend a CableEye tester to anyone.


JS
Quality Computer Accessories
Pisacataway, NJ

Nature of Business: Contract Cable Assembly
December 4, 2000
---
CableEye® Automation-Ready Cable and Wire Harness Test Systems
A CableEye test system is a highly versatile, expandable and upgradable diagnostic and Pass/Fail check Cable and Harness Test System that's PC-based. It's used for assembly, prototyping, production, and QC of standard or custom wire cables and harnesses The entire suite of products is powered by the same easy-to-use operating software and, with the help of its signature easy-to-interpret color-coded graphics, instantly identifies not only when there is a fault, but what type of fault and where.

Low Voltage M2 Series
For diagnostic and Pass/Fail Testing - Find, display, log, & document continuity (opens, shorts, miswires, intermittent connections).

Low Voltage M3 Series
For all of the above plus resistance (contact, isolation, embedded), and diodes (orientation, forward voltage, reverse breakdown).

Low Voltage M4 Series
For all of the above plus precision resistance (4-wire), and capacitance (twist wire relationship, length of cable, length to break, capacitors).

Low Voltage and High Voltage HVX Series
For all as described for M3Z plus HiPot (dielectric withstand voltage and insulation resistance). 4-Wire Kelvin Measurement and Advanced Measurement Options (capacitance, twist wire relationship, length of cable, length to break, capacitors) are available.
Free 2-Week Trial
Experience a CableEye tester first-hand. See how your own cables and connectors can be auto-detected and accurately represented on our graphic-rich, touch screen compliant GUI. Find cable problems fast, and understand why customers tell us "... we can not live without CableEye" (Kabelservice), declaring it the "... best, easiest to use, system" (Digital Video Products).
Limited availability

Schedule your Free Trial now!
No credit card required. No commitment to purchase.