News Release
CableEye® Training and Verification Adapter Board, CB-T1
May 21, 2015

CAMI Research Inc. (Acton, MA) announces a new, dual-purpose connector board for training new users on its CableEye cable and harness testing systems, and for performing tester system verification.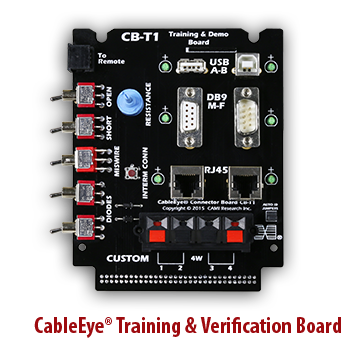 Training
Demonstrated at the 2015 Wire Processing Technology Expo, the CB-T1 is a great way to familiarize new employees with CableEye test systems during their orientation. Training may be self-directed with this tool.

Populated with a few common connectors, the board allows trainees to methodically experience how the system responds to opens, shorts, miswires, diodes, resistance, and intermittent connections while at the same time learning to operate CableEye.

The adapter board comes with identification LEDs for each connector that may be used to show the trainee operator which connector s/he must connect.

Tester Verification
As a system verification tool, the CB-T1 allows customers to verify the tester is working properly by quickly sampling the full spectrum of fault detection without use of example fault cables. The limitation of physical fault cables is that typically one example is needed for each fault. Use of the CB-T1 will provide a faster and more through verification process. The verification cable itself may be learned on first use, and loaded thereafter prior to going through a simple fault simulation procedure.
Facility Verification
Customers may also use the board for demonstrating CableEye functionality to their own customers as a way of creating a quick impression on production quality either during an audit, or during contract negotiations.
Availability & Domestic US Pricing
Rated to 250Vdc/200Vac, the CB-T1 may be used on all CableEye Testers. The CB-T1 is available as a SINGLE board for $195 (Item 800), and includes cable and instructions.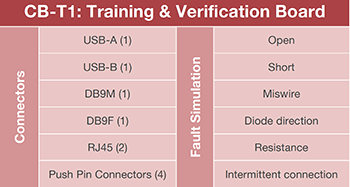 Contact
sales@camiresearch.com
or
+1 (978) 266-2655
for a quote.
Note: Prices are USA only and subject to exchange rates, freight and import costs. Contact your local
authorised distributor
for local pricing.
CAMI Research produces expandable and upgradable diagnostic Cable & Harness Test Systems for assembly, prototyping, production, and QC of standard or custom cables. CableEye® Testers display, and document basic electrical properties such as continuity, resistance, dielectric breakdown, insulation resistance, miswires, and intermittent defects.

CableEye®
CableEye is an expandable and upgradable diagnostic and Pass/Fail Cable and Harness Test System that's PC-based. It's used for assembly, prototyping, production, and QC of standard or custom wire cables and harnesses, and comes in six models ...

Low Voltage: M2U-basic, M2U
For diagnostic and Pass/Fail Testing - Find, display, log, & document: continuity (opens, shorts, miswires), and intermittent connections

Low Voltage: M3U, M3UH
For all of the above plus resistance (contact, isolation, embedded), and diodes (orientation, forward voltage, reverse breakdown).

Low Voltage and High Voltage: HVX, HVX-21
For all of the above plus HiPot (dielectric withstand voltage and insulation resistance).
Free 2-Week Trial
Experience CableEye first-hand. See how your own cables and connectors can be auto-detected and accurately represented on our graphic-rich, touch screen compliant GUI. Find cable problems fast, and understand why customers tell us "... we can not live without CableEye" (Kabelservice), declaring it the "... best, easiest to use, system" (Digital Video Products).
Limited availability

Schedule your Free Trial now!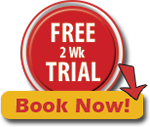 No credit card required. No commitment to purchase.