Item 760
Previous Item | Next Item
CB30 Connector Board
Custom Interface Board
for Connectors with up to 128 Pins
NOTE: 256 Test Points Are Required!
Shown Actual Size
Configuration
This generic board, similar in design to the CB8, accepts a wide range of circular connectors, rectangular connectors, bracket-mounted assemblies, and adapter cables. The customer mounts the connectors of interest using supplied standoffs and screws (see Photo 6 below). Any panel-mount circular connector with four mounting holes fits the "X" pattern slots on this board. Mount up to four small circular connectors (mounting hole spacing less than 0.9"), or one large connector (mounting hole spacing less than 2.3"). Holes may be drilled in the board to accommodate other mounting arrangements. Wire pins from the attached connector to labeled pads surrounding the board. Use the numerous small holes around the board for nylon lacing to hold wiring in place. Alternatively, mount dual-row headers of up to 64-pins to the right and left pad footprints, spaced on a 0.1" grid (see Photo 3 below). Use these headers for a custom-designed daughter board that plugs into the CB30 (see Photos 4 and 5 below) or for flat cables. Instead of a single 64-pin header, attache combinations of smaller headers that have a 0.1x0.1" footprint. A total of up to 128 pins can be accommodated per board.
When the wiring is displayed, a generic dual-row header is shown for the connector. Use the optional PinMap software (recommended for this board) to choose a different graphic from the CableEye connector library and assign custom pin labels. Use two CB30 boards together, or a CB30 in combination with any other CB board to accept any connector combination. Review the photos below for the setup options, or click to see photos of custom CB30 applications. Set of two boards with expander cables. Requires 256 test points.
Voltage Rating
Rated for operation up to 500 Vdc/ac.
Can be certified for operation at the maximum rated voltage for a service fee (Item 626).
1 - Top View of CB30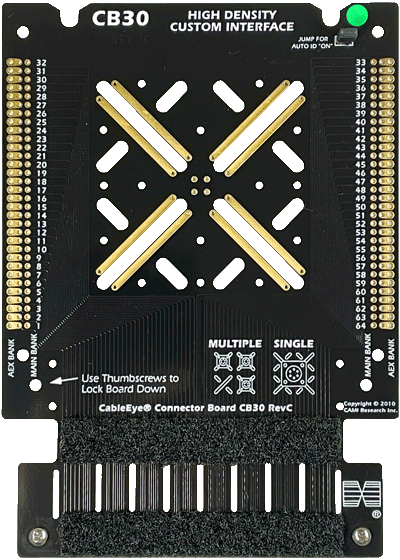 ---
2 - CB30 Mounted to a 256 Test Point CableEye System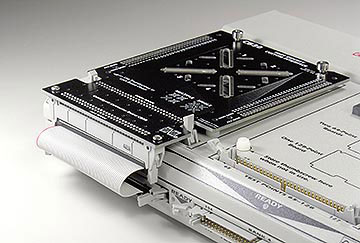 ---
3 - 64-pin Latch Headers Mounted to CB30
(not included)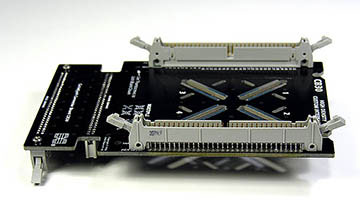 ---
4 – Custom-Designed Daughter Board for CB30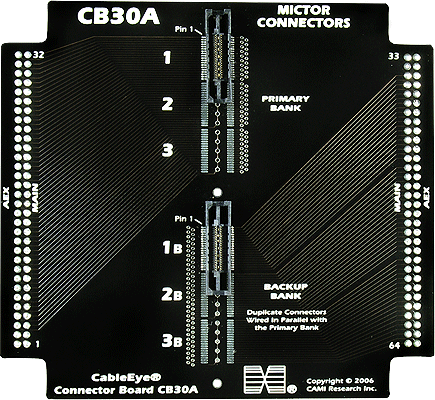 ---
5 - Daughter Board Mounted on CB30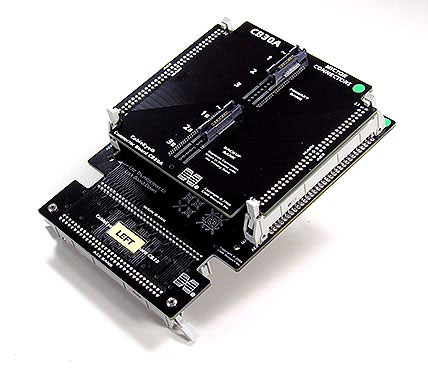 ---
6 - Standoff Kit Supplied with the CB30 Set