Before You Ship
When shipping from an international location where we have a representative, please contact your local distributor.
1 - Call CAMI Research at 978-266-2655 or your region's
international distributor
to arrange for return of your unit. We will:
confirm the serial number of the tester or testers that you want to be upgraded.
confirm the name of your company's technical contact person for your CableEye tester/s.
confirm your company's address and phone number.
schedule the upgrade service.
subsequently email you a Return Material Authorization (RMA). CAMI reserves the right to reject a shipment that arrives without this prior authorization.
2 - We will confirm the cost of the upgrade, either by phone or by sending you a quote. Please have ready:
the serial number of the tester or testers that you want to be upgraded.
the model type to which you want the tester to be upgraded (see above chart).
3 - Your company pays transportation in both directions. We will accept VISA, MasterCard, and American Express if that is more convenient. Be sure to specify the method of return shipment you want us to use (Ground, 3rd Day, 2nd Day, Overnight).

Note: Return shipment options for International customers are FedEx or UPS (Priority or Economy), or DHL. Customer must supply a shipping account for DHL.
---

Hardware Upgrade Options
Multiconductor testers are powerful tools used for qualifying electrical integrity. They can provide full measurement data, simultaneously, for every pin-to-pin connection. Here we describe cost-effective ways of updating the capabilities of your CableEye tester.

We have been producing innovative bench top CableEye test systems for over 25 years. Checking continuity (shorts, opens, miswires, intermittent faults), resistance, capacitance, in-line components (value and orientation), and insulation quality (Insulation Resistance, Dielectric Strength) of cables and harnesses, the testers are highly configurable, and automation-ready.

CableEye system capabilities can be expanded post-purchase by adding software and/or hardware options, and by upgrading the tester model itself.

CAMI and several of its worldwide, authorized distributors offer these upgrade services making it easy for users to modernize their testers, and to add functionality to meet growing business demands and changing needs. Software upgrades are near instantaneous, and are described here. Scheduled hardware upgrades are completed as listed here under Service (Calibration, Repair, Upgrade). With the exception of the Light Director™ light-guided connector assembly system which can be ordered like any other accessory, CAMI Research or an approved distributor must carry out all of the hardware upgrades described here.
1.0 Model Upgrade
Upgrading the tester Model (Table 1) is a cost-effective way for you to modernize your serial port tester, expand test capabilities and improve competitiveness and productivity. Scroll up this page to learn how to order your upgrade. Compare and contrast models here.
Table 1

| CableEye Upgrade Options | to M2U-Basic | to M3Z |
| --- | --- | --- |
| from M2-Basic | | |
| From M3, M3A | | |
1.1 Upgrade Serial Port to USB - Hardware/Software/Warranty/Calibration Upgrade Bundle
Although serial port testers are obsolete, for less than the price of a new system, and for a limited time, you may upgrade your serial port CableEye tester to USB if your tester is a model M2-Basic or M3/A. We no longer otherwise support serial port testers in any way. Upgraded testers are once again eligible for services (Product Support Subscription, calibration, warranty and other repair, software updates, technical support etc.) as appropriate. Note that, without the upgrade, these serial port testers will not operate on any operating system above Windows XP, or with USB ports adapted to interface with serial port devices.

Upgrading will improve your test capabilities and allow you to become more productive - giving you faster (x4) measurement capabilities. The latest software alone provides additional features and capabilities. All the hardware (e.g. boards/interface fixtures) you have developed for your serial port unit will be compatible with the upgraded unit. You will even be able to use newly released connector boards that require the most current software. Upgrading to a USB model from a serial port variant is about half the price of a new system. The latest software alone provides additional features and capabilities.

All upgraded systems ship with the latest software, renewable one year Product Support Subscription and, if applicable, newly calibrated. The latest software brings additional features such as Production Mode Single Click Activation, Pop-up Operator Work Instructions and Automatic Data Logging.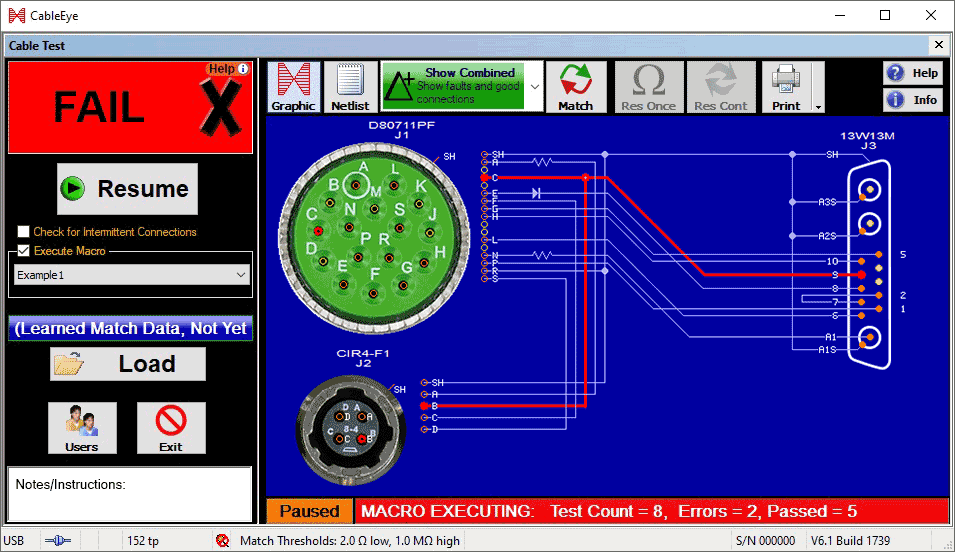 Production Mode Batch Testing with Pop-Up Operator Work Instructions
1.2 Will we need to upgrade the expansion modules?
Your existing expansion modules will not be compatible with your upgraded control module and will also need to be upgraded. Expansion modules MUST be returned with the control module for the upgrade service. Click
here
for an example of a tester with expansion modules. If you have a particularly early model, your expansion modules may be situated to the side of the tester.
2.0 Add-On Upgrade
2.1 More Test Points
Any of your testers, with the exception of the M2U-Basic and obsolete systems may be readily expanded. Expansion modules are stacked beneath the control module, increasing the number of test points by 128 per expansion modules. This upgrade service includes calibration when relevant.
2.2 More Sensitive and Precise Resistance Measurement
The 4-Wire Kelvin module (Item 832) is an add-on option for the CableEye HVX high voltage cable tester that permits expanded testing for contact and wire resistance as low as 1 mΩ. After checking for opens, shorts, miswires, and resistance limits, the 4-wire Kelvin measurement applies a user selectable test current from 10 mA to 1 A to determine connection resistance within 1 mΩ. The resistance profile of a model cable may be stored and used as a basis of comparison during later testing to reveal cold solder joints, faulty crimps, recessed pins, pin contact contamination, improper wire gauge, and stress extruded wire.

Four-wire measurement eliminates any effect of fixture resistance to obtain a precise value of the unit under test (UUT) resistance only. The same high-accuracy measurement may be obtained with a short fixture attached directly to the tester, or with a large wire harness fixture that may extend a considerable distance to reach the UUT. Users may optionally set up a high-current stress test for wiring by driving up to 1 A of current through each conductor, and setting a dwell time from 100ms to 3 min. Increasing resistance during the dwell period may show problems not detected with a shorter measurement interval.

This upgrade option may be added to any of your existing HVX-series testers. Compared to 2-wire measurement techniques, 4-wire measuerment methods require twice as many test points, so you will need to consider whether to also add expansion modules (see section 2.1).
2.3 More Control
A Remote Control (Item 829X) can be added to HVX-series testers if you need to mount the tester behind a panel or place it in an inaccessible area. The switch permits enabling of a high-voltage emergency stop and HV-active relay contacts.
2.4 More Accurate and Faster Connector Assembly
Available for any tester except the M2U-series, the Light Director™ light-guided assembly system (Items 767A, 768A) mounts to the top of the control module or a QuickMount™ housing, and provides more accurate and faster connector assembly. It requires the AutoBuild™ software upgrade (Item 728) to operate. The Light Director upgrade service can include the mounting and programming of your supplied mating connectors, but does not require return of the test system. The Light Director fixture detaches readily from the tester.

The Light Director accessory provides a computer-guided technique for assembling connectors used in aerospace, medical, and other high-reliability applications. This system uses light fibers driven by super-bright LEDs to individually illuminate target cavities in the connector being assembled. When the technician enters the wire code printed on unconnected wires, or touches a wire connected at the other end, the CableEye software turns on the appropriate fiber, thereby causing a bright, flashing light to project from inside the target cavity guiding the technician to the proper insertion point. Correct insertion is confirmed by the elimination of light from that location, whereas insertion into an incorrect location leaves the flashing light visible.

Using synthetic speech, the Light Director accessory can read the pin number to the technician, further reinforcing the target location. Speech can be activated in English, Spanish, French, German, Chinese, Hebrew, Japanese, Korean, Polish or Turkish when a matching generic voice font has been downloaded. Speech recognition is also available as an option permitting the technician to speak wire codes to the system, thus eliminating the need for a keyboard or monitor

Normally, technicians crimp pins on wires in advance of assembly to the connector. Wires may be identified during the assembly process by numeric code, bar code, color code, or if no codes are present, by electrical detection using a wrist-strap if the far end of the cable has already been assembled and can be electrically connected to the system. Field testing has shown that the Light Director light-guided assembly system doubles assembly rate over manual methods while nearly eliminating errors. Because the Light Director accessory greatly reduces the perceptual challenge of manually locating pin cavities in a complex connector, technician fatigue is greatly reduced, permitting a continuous, high productivity rate throughout the workday
3.0 Summary
CAMI has several upgrade offerings that will allow you to extend the life of your tester keeping it relevant to your changing business and testing needs. Because of the robustness of our design and these upgrade opportunities, we have many customers using testers that are well into their second decade of use.
---

Automation-Ready Cable and Harness Testers: CableEye® Upgrades and Reconditioning
Multiconductor testers are powerful tools used for qualifying electrical integrity. They can provide full measurement data, simultaneously, for every pin-to-pin connection. Here we describe cost-effective ways of updating the capabilities of your
CableEye
tester.
Read now!