News Release
CableEye® Multilingual GUI includes Japanese
Jun 10, 2015

CAMI Research Inc. (Acton, MA) CAMI Research Inc. (Acton, MA) has added a Japanese language option to its standard CableEye cable and harness testing system Graphical User Interface (GUI). The intuitive, graphic-rich GUI provides a clear simple operator interface for production workers, and may now be user-set to any of seven global languages: ENG, ESP, DEU, FRA, TUR, CHN, JPN.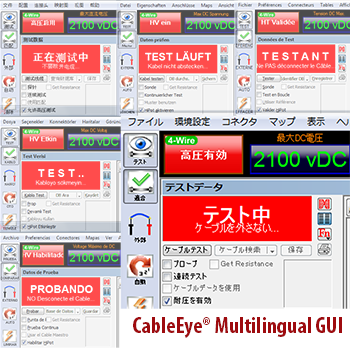 Comprehensive Translation
A leader in development of PC-based Cable & Wire Harness Test Systems for over 20 years, CAMI offers the CableEye suite of Low and High Voltage products complete with accessories. Users interact with any of its models through an identical GUI, as the systems are united by a common platform.

Translated by native speakers to ensure clarity, all seven language options are provided in CableEye's standard software as well as its PinMap™, Connector Designer™, Autobuild™, and Exporter software options.

The language setting affects anything presented on the screen (including associated print options), such as its 'standard' comprehensive reports, color-coded net lists, scripting, and user-defined/annotated cable database entries.
Exacting Reporting Standards
CableEye software allows customers to meet the most exacting reporting requirements of government-contracted and ISO 9000-style certified companies … in seven languages.
Availability & Domestic US Pricing
All seven multilingual GUI settings come with the standard software shipped with any new CableEye test system. Users of older systems may update their software to version 5-B1187 or later to acquire Japanese functionality. Upgrades from Version 4 or earlier software may be purchased for $295 (Item 726), or downloaded for free from our Customer Support site with a valid Warranty. Warranty renewals start at $160 for an M3U system without expansion modules and includes CableEye's standard one year Warranty which is combined with free tech support and free software upgrades.

Contact sales@camiresearch.com or +1 (978) 266-2655 for a quote.

Note: Prices are USA only and subject to exchange rates, freight and import costs. Contact your local authorised distributor for local pricing.
CAMI Research produces expandable and upgradable diagnostic Cable & Harness Test Systems for assembly, prototyping, production, and QC of standard or custom cables. CableEye® Testers display, and document basic electrical properties such as continuity, resistance, dielectric breakdown, insulation resistance, miswires, and intermittent defects.

CableEye®
CableEye is an expandable and upgradable diagnostic and Pass/Fail Cable and Harness Test System that's PC-based. It's used for assembly, prototyping, production, and QC of standard or custom wire cables and harnesses, and comes in six models ...

Low Voltage: M2U-basic, M2U
For diagnostic and Pass/Fail Testing - Find, display, log, & document: continuity (opens, shorts, miswires), and intermittent connections

Low Voltage: M3U, M3UH
For all of the above plus resistance (contact, isolation, embedded), and diodes (orientation, forward voltage, reverse breakdown).

Low Voltage and High Voltage: HVX, HVX-21
For all of the above plus HiPot (dielectric withstand voltage and insulation resistance).
Free 2-Week Trial
Experience CableEye first-hand. See how your own cables and connectors can be auto-detected and accurately represented on our graphic-rich, touch screen compliant GUI. Find cable problems fast, and understand why customers tell us "... we can not live without CableEye" (Kabelservice), declaring it the "... best, easiest to use, system" (Digital Video Products).
Limited availability

Schedule your Free Trial now!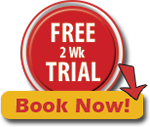 No credit card required. No commitment to purchase.