Electrical Wire Processing Technology Expo 2023
Booth 1503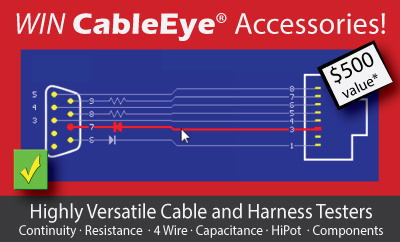 Discover!
Discover why CERN, Ford, GE, Hitachi, Lockheed Martin, NASA, Raytheon, TESLA, TE Connectivity and thousands more discerning organizations rely on our testers.


Explore solutions for countless applications in Transportation, Aerospace, Energy, Medical Devices, Defense, Scientific R&D, and more.
Come early to the Electrical Wire Processing Technology Expo to attend our all day workshop on May 16, then join us at our booth May 17-18 as we provide hands-on demonstrations of our CableEye® assembly and test systems for cables, wire harnesses, and backplanes.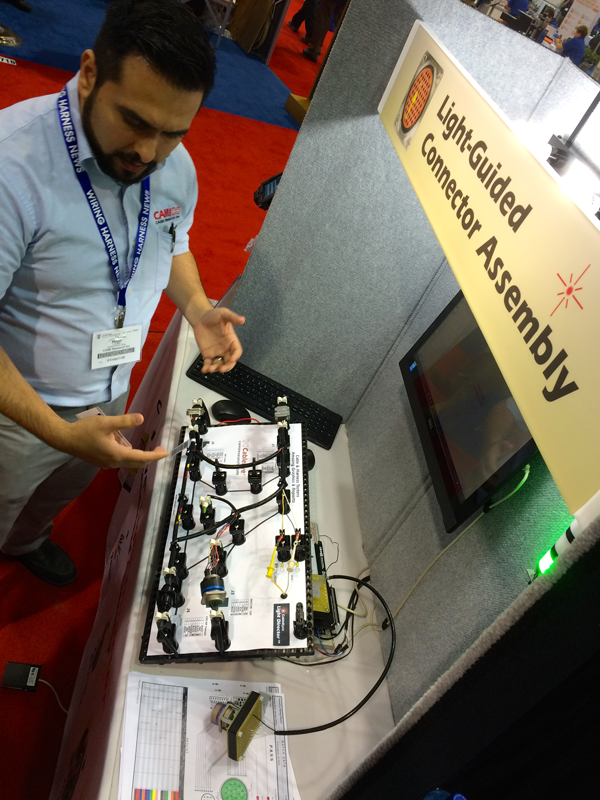 ---
Top Products
Try our low voltage and high voltage (HiPot) testers and experience Wire Harness & Cable Connectors Top Products: Simplified User Interface and HVX‑21 (2015), Light Guided Connector Assembly (2017), Test and Cable Management System (2019), Low Voltage Multiconductor Tester (2020, 2022). Sample...
Amazing interface & reports
Multilingual, dynamic, graphic-rich display
Real-time screening for intermittent connections
Relay control
Simple automation scripting
Rich text work instructions with images
Light-guided connector assembly
Barcode-tracking & archival data-logging
Determining wire twist relationships for pairs or triplets
Precision resistance measurement (4-wire Kelvin)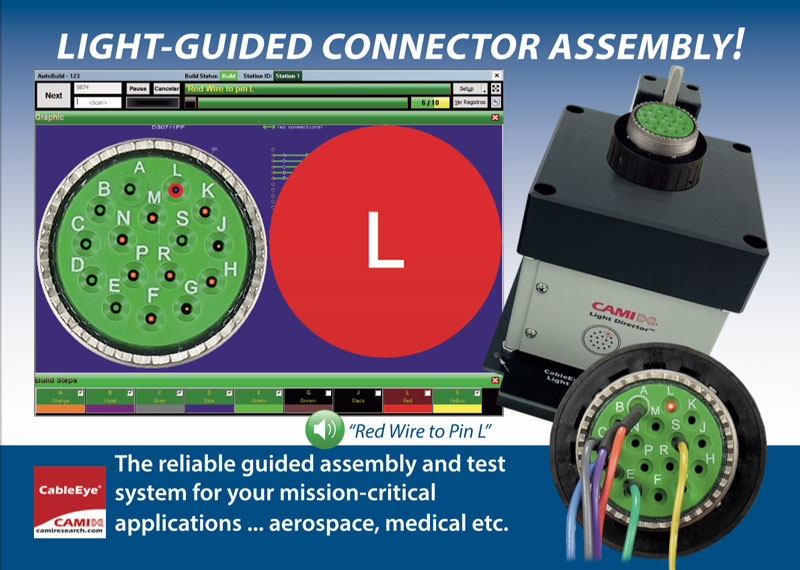 ---
Pop-Up Rich Text Work Instructions
Test-automation with CableEye testers is simple yet powerful. Included with every tester, CableEye software offers out-of-the-box automation capabilities with both Macros and Javascript scripting languages. Macros offer the simplest, easiest language on the market — programming skills are not required.

By completely automating the test process after the operator attaches a cable, you eliminate any chance that testing or documentation will differ from one cable to the next
A special macro instruction allows you to create image-rich work instructions to also reduce operator mistakes during test set-up. Write the instructions in any language/s you like with any number of images you like. You have complete control of whether the work instructions completely or partially overlap the production-testing screen. Display a pop-up window containing text, photos, interactive buttons, and triggers to open additional resources such as video, schematics, parts lists and BOMs. Include instructions that let barcode readers input data and activate tests.Work instructions can be coupled with operator text to speech conversion to form a totally heads-down workstation.
Choose the exact amount of detail, imagery, language and automation you need to ensure your work instructions and tests are carried out flawlessly.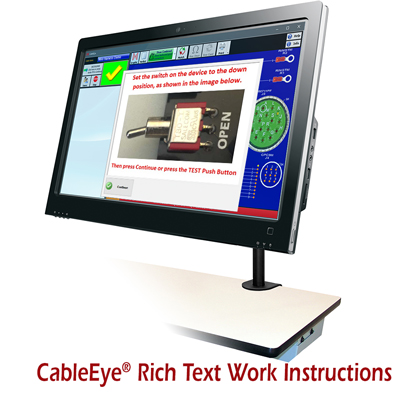 ---
Custom Cable Assembly and Test Interface Fixtures/Adapters
We offer a large library of stock test interface boards as well as generic boards that can be customized with LIF test blocks, panel- and cable-mounted connectors (top image), and ZIF fixtures for light-guided assembly (bottom image).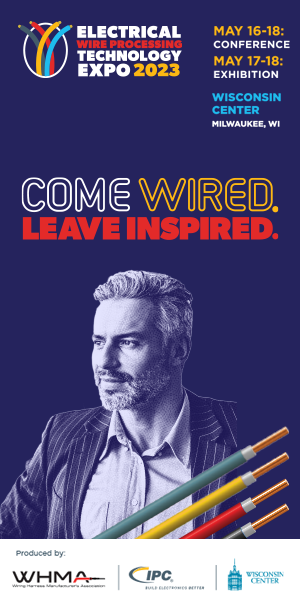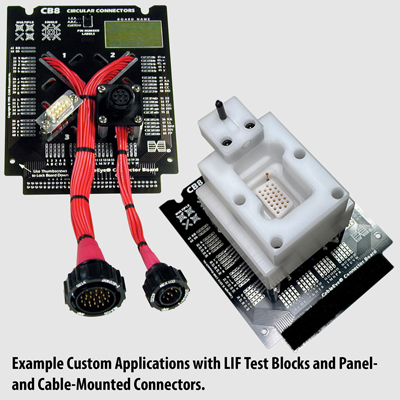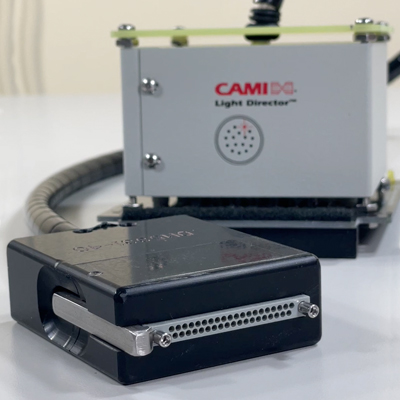 ---
Model M4 Low Voltage Tester with Capacitance and 4-Wire Measurement Capabilities.
Check out the Model M4, low voltage tester. The expandable M4 offers both 4-wire Kelvin measurement and two-wire resistance measurement as standard ... each with a resolution of 20mΩ. Ask us to show you how easy it is to determine wire length and wire twist relationships (in pairs or triplets) with this tester.

Order your HVX-series HiPot tester with the Advanced Measurements option to enjoy the same capabilities as the M4 during low voltage testing.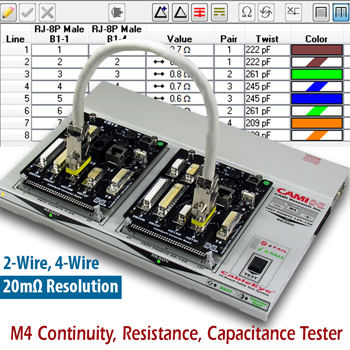 ---

Cable Build & Automation Stations
Simulating actual manufacturing tasks, you can build a cable, then learn and test it for yourself. At the Automation Station, discover the simplicity of programming your CableEye tester for automation by testing the cable with a macro and experiencing various features and peripherals that might be needed in an automated test environment (e.g. pedal, barcode reader, tower light, label printer etc.).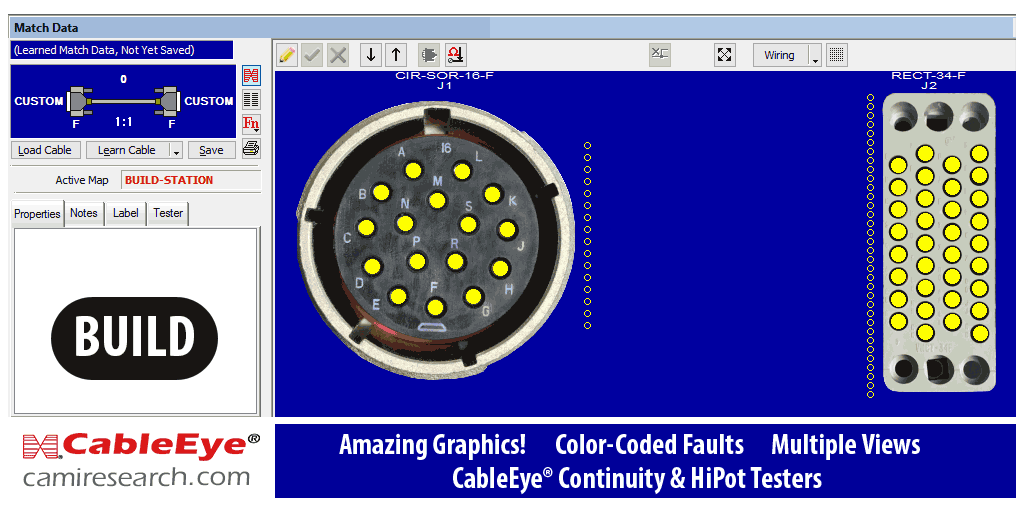 ---
Product Announcements
We will be announcing new product options just prior to the show. Please check our News Release index for this news.
We ... haven't found anything else that matches its functionality.
We really enjoy the versatility and capabilities of this tester and haven't found anything else that matches its functionality.
JH
GE Aviation
(Aerospace)
Hear more from our customers ...
---
Read on to find out how to: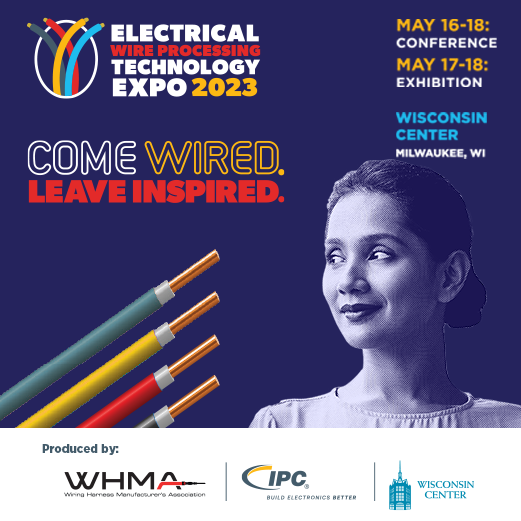 ---
Register for our Workshop and Conference Seminar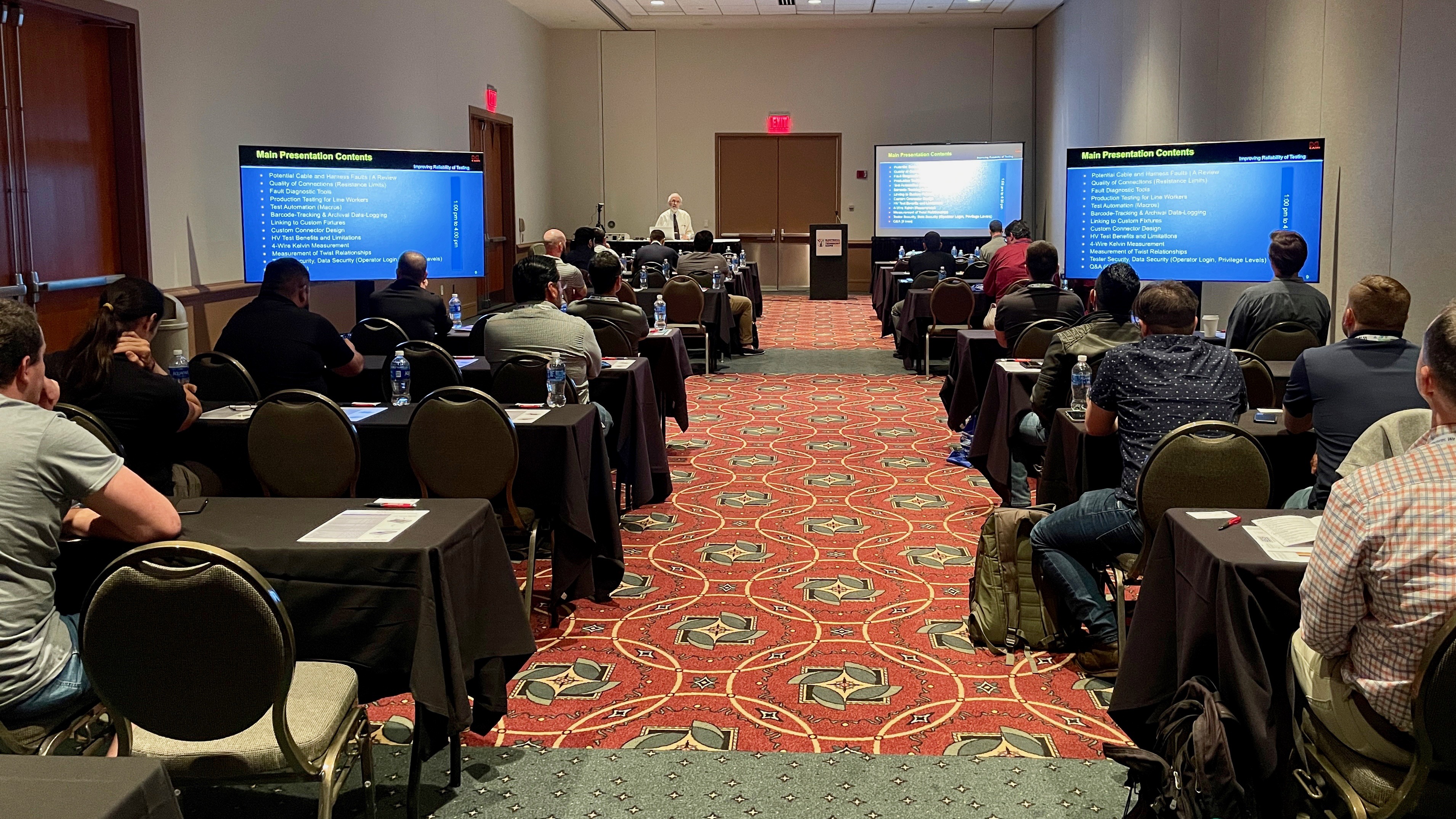 Advanced Training Workshop
"Improving Reliability of Continuity and HiPot Testing"
A Professional Development Course by CAMI Research
CAMI Research will hold this invaluable professional development one day, two part training session on Tuesday, May 16th at the Wisconsin Center (same location as the EWPT EXPO). Space is limited, so please book early.

NOTE: The exhibition hall is open to the public Wednesday and Thursday.

This informative and interactive workshop is for motivated employees of any company looking to improve product quality and productivity whether their products are cable or harnesses, or products in which cables and harnesses are parts or subassemblies. Cable and harness testing applies to countless applications in Transportation, Aerospace, Energy, Medical Devices, Defense, Scientific R&D, and more. Prior knowledge of basic cable testing is recommended.
Three large screens display live demonstrations of the hardware and software, with an overhead camera capturing action at the tester.

A Certificate of Attendance will be provided to everyone who completes the course.
Stay and meet with our team to discuss your applications.

Date: Tuesday, 16 May 2023
Time: 10:00 am – 11:30 am
1:00 pm – 4:00 pm
Presenter: Christopher E. Strangio
Topics:

Quality of Connections (Resistance Limits)
Real-Time Screening for Intermittent Connections
Test Documentation
Production Testing for Line Workers
Test Automation (Macros)
Barcode-Tracking, Archival Data-Logging
Fault Diagnostic Tools
Custom Connector Design
Linking to Custom Fixtures
High Voltage Test Benefits and Limitations
4-Wire Kelvin Measurement
Measurement of Twist Relationships
Data Security (Operator Login and Privilege Levels)
Testing Large Harnesses with Switches
Q&A
Meet with our team to discuss your applications
Each attendee will be eligible to participate in a drawing to win $500 in CableEye accessories. See below for details.

Registration fee applies. Early-bird pricing applies for all registrations secured on or before 31st March 2023.
Conference Seminar
"Risks of Over-Specifying Test Requirements: Testing Shielded Cables at High Voltage"


Testing electrical cables at high voltage helps to identify the presence of moisture, solder flux, or contamination — that may have penetrated breaks in the insulation or connector backshells, and ensures that the insulation between wires can sustain temporary voltage excursions higher than the normal operating voltage without breakdown.

The result of a high voltage test typically shows the insulation resistance between wires in the hundreds of megohms or higher. Test specifications requiring insulation resistance of 5 GΩ are not uncommon.

As test equipment suppliers, we frequently hear from our customers who are burdened with over-specified test requirements imposed by their customers. We show that it is not necessary to apply voltage to the shield conductors to accurately test insulation resistance as long as the shields remain at zero volts when the other wires are tested at high voltage. Additionally, we show that specifying testing at higher and higher voltages is neither necessary nor safe to the operator or product, even with technology that has been on the market for many years.
Target Audience:
Those who manage test specification generation or manage/perform testing.
Date:
Wednesday, 17 May 2023
Time: 1:00 pm – 1:30 pm
Presenter: Christopher E. Strangio
---
Workshop and Conference Seminar Presenter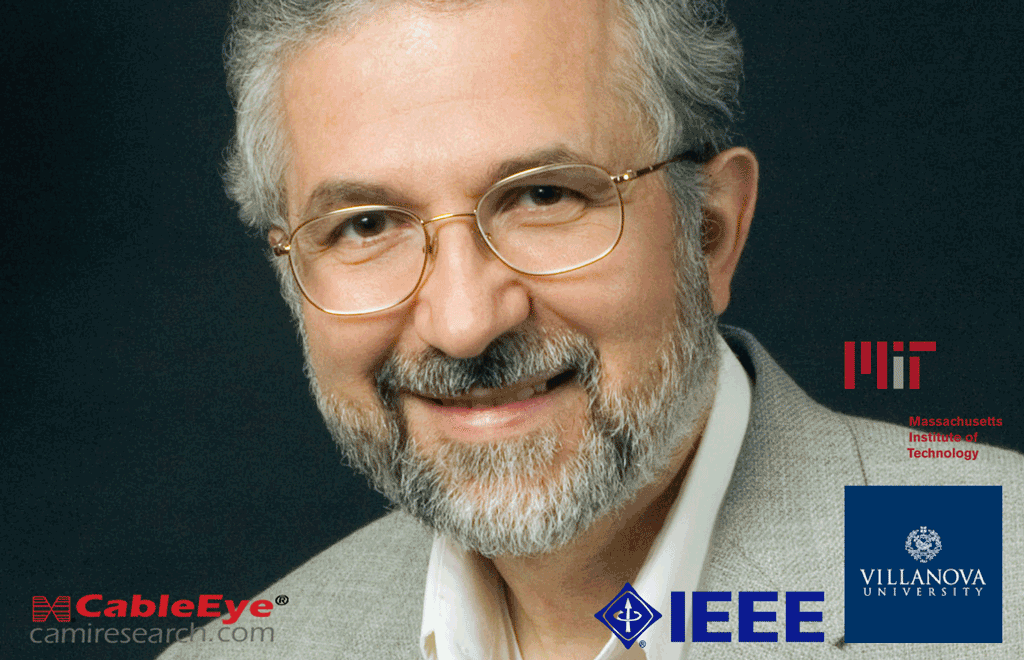 Christopher Strangio is the President and founder of CAMI Research and holds degrees in Electrical Engineering from Villanova University and MIT. A lecturer at the MIT Lowell Institute School for twenty years, and author/presenter of a microprocessors multimedia course for the MIT Center for Advanced Engineering Study, he has been awarded two patents, an IEEE teaching award, a Villanova University technical achievement award, developed the CableEye PC-based cable & harness test system, and is a senior member of the IEEE.
---
Book a Booth Appointment

If you have a new inquiry, we invite you to book a booth appointment through our exhibitor page.

Please direct tech support discussions to our support team in Acton.
The most practical, user friendly machine that I have ever used.
I have used your units for several years, that is, when I worked for electronics manufacturing companies in the past. You have an outstanding product, and I say that, because I've seen my share of testing units in the 36 years that I've been in this business, and yours is the most practical, user friendly machine that I have ever used.
CT
B & C Custom Cabling
(Contract Cable Assembly)
Hear more from our customers ...
---
WIN CableEye Accessories - Value $500

TWO Prizes!
TWO ways to win!
Attend our Professional Development Advanced Training Workshop "Improving Reliability of Continuity & HiPot Tests", and leave your business card at the end with your completed feedback form.


Meet with a CAMI representative at our booth and leave your business card with them.

Prize value $500 to be applied towards CableEye tester accessories of your choice with purchase of any new CableEye system. Prize expires Aug 1, 2023. Winning cards for each category will be drawn the week of May 22nd. Winners will be notified within seven days.
CableEye ® Automation-Ready Cable and Wire Harness Test Systems
CableEye testers are highly versatile, expandable and upgradable diagnostic and Pass/Fail check Cable and Harness Test Systems that are PC-based. They are used for assembly, prototyping, production, and QC of standard or custom wire cables and harnesses The entire suite of products is powered by the same easy-to-use operating software and, with the help of its signature easy-to-interpret color-coded graphics, instantly identifies not only when there is a fault, but what type of fault and where.


Low Voltage M2 Series
For diagnostic and Pass/Fail Testing - Find, display, log, & document continuity (opens, shorts, miswires, intermittent connections).


Low Voltage M3 Series
For all of the above plus resistance (contact, isolation, embedded), and diodes (orientation, forward voltage, reverse breakdown).


Low Voltage M4 Series
For all of the above plus precision resistance (4-wire), and capacitance (twist wire relationship, length of cable, length to break, capacitors).


Low Voltage and High Voltage HVX Series
For all as described for M3 plus HiPot (dielectric withstand voltage and insulation resistance). 4-Wire Kelvin Measurement and Advanced Measurement Options (capacitance, twist wire relationship, length of cable, length to break, capacitors) are available.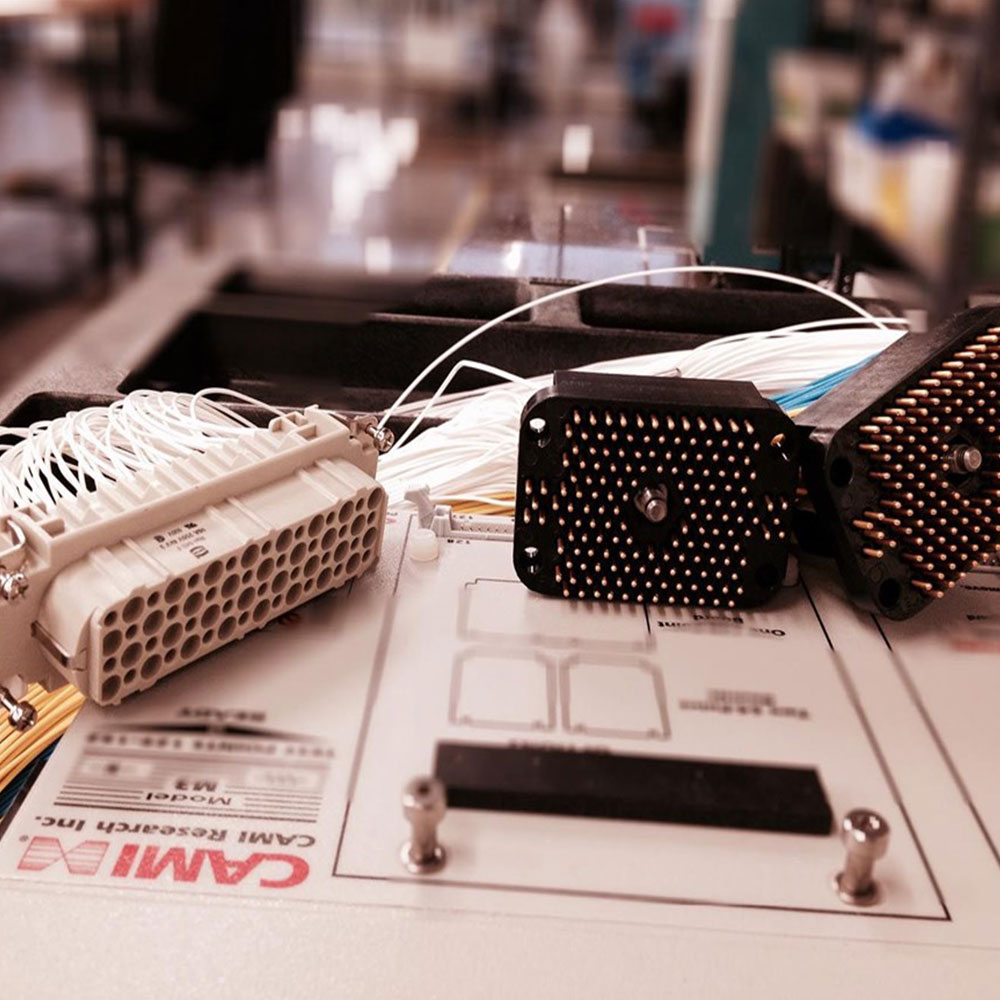 photo credit: Progressive Image
We understand the importance of trying out a tester for yourself before committing to purchase and we've made it easy for you to do so ...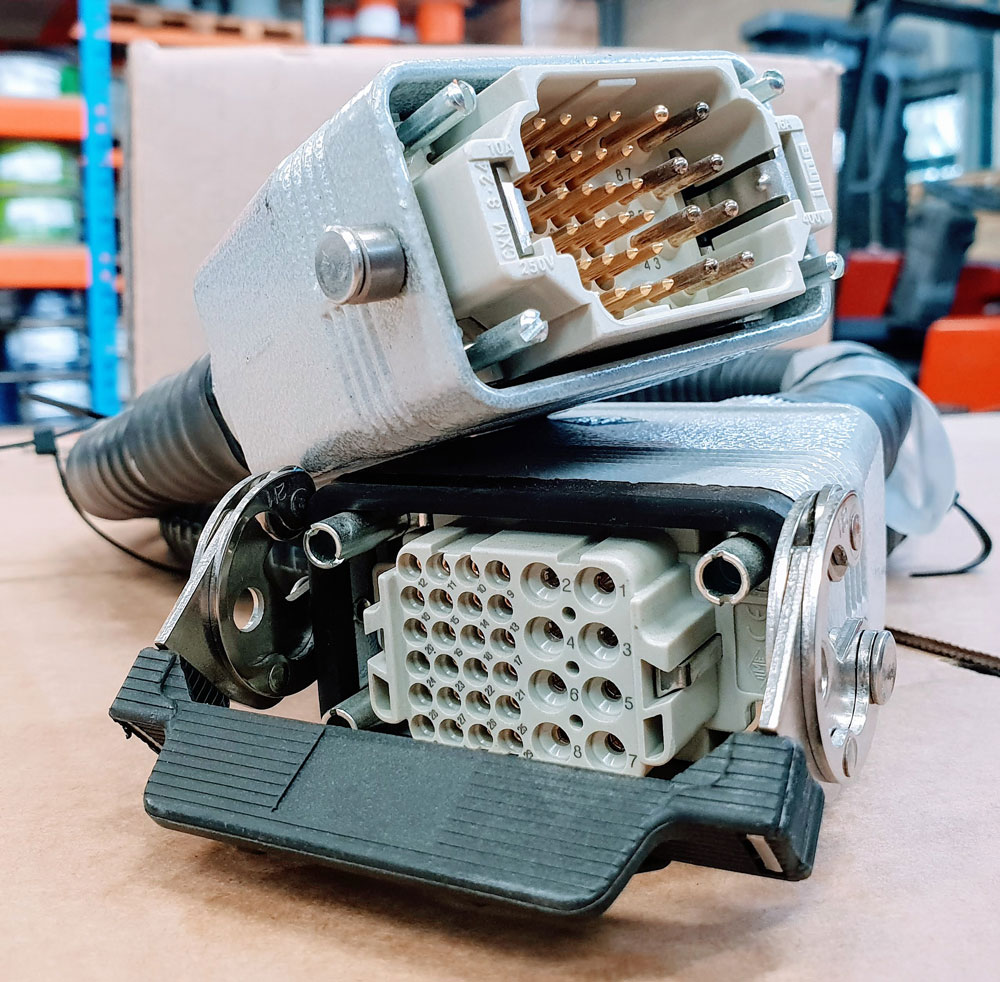 photo credit: AP Technology
"Our production guys find it simple to setup and use. Our clients love it as it provides complete traceability for each and every cable assembly we manufacture."
AP Technology, UK