Low Voltage Cable Testers

Continuity | In-Line Components | Length of Cable
CableEye M2Z, M3Z, M4 Systems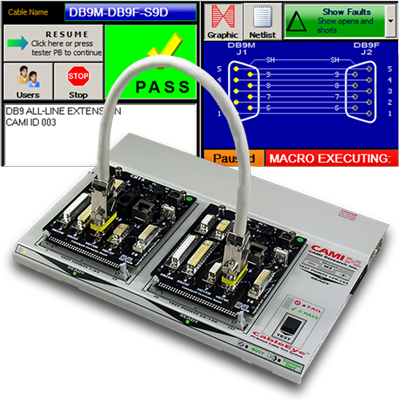 128+24 Test Points
---
Low Voltage Harness Testers

Continuity | In-Line Components | Length of Cable
CableEye M3Z, M4 Expanded Systems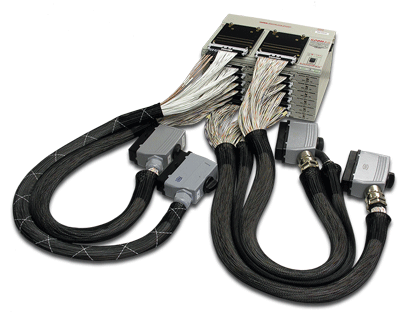 ---
High Voltage (Hipot)
Cable and Harness Testers

All of the Above | Dielectric Breakdown | Insulation Resistance/Isolation
CableEye HVX Series High Voltage Test Systems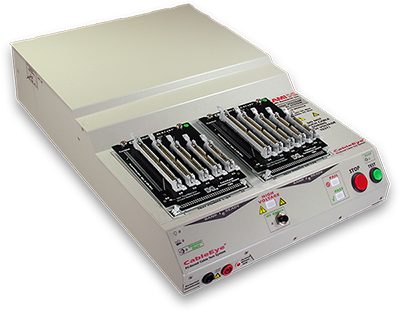 ---
Pass/Fail Check GUI
Standard - All Testers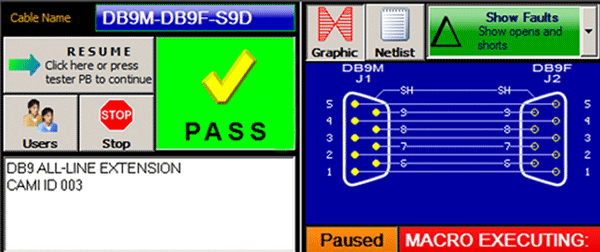 ---
Diagnostics GUI
Standard - All Testers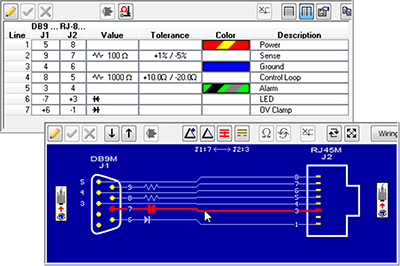 ---
Out-of-the-Box, Customizable Test Reports
Standard - All Testers
Sample Reports & Lables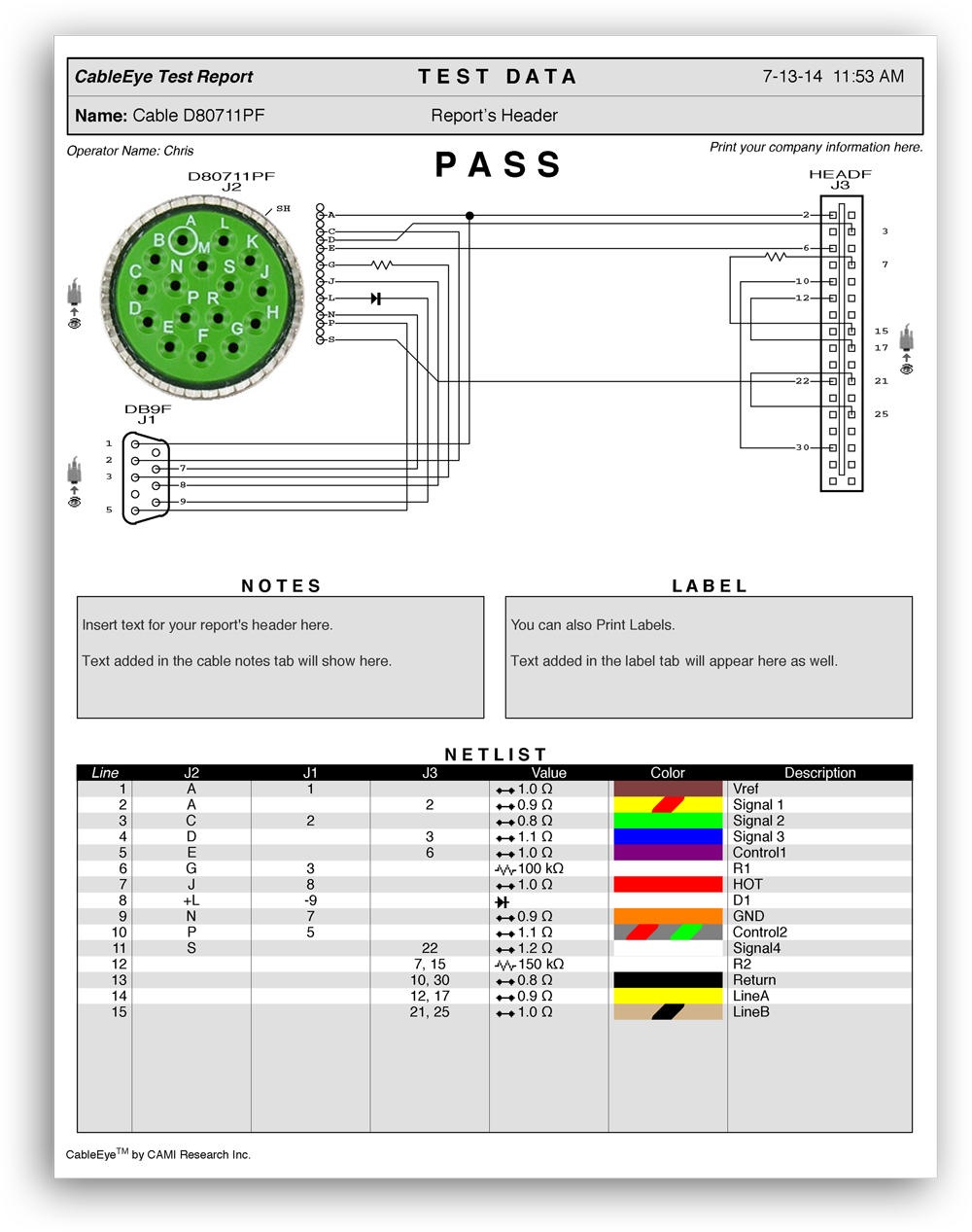 ---
Simple Automation Scripting
Standard - All Testers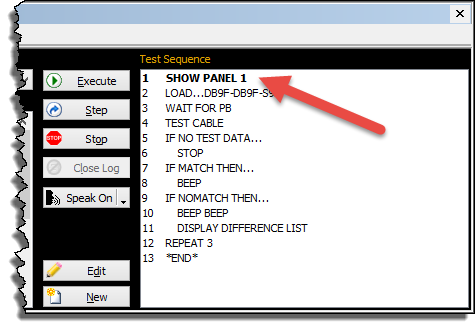 ---
Real-Time Screening for Intermittent Faults
Standard - All Testers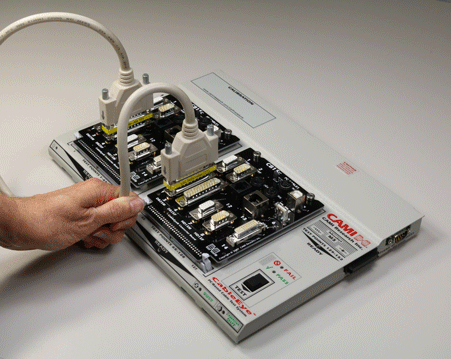 Flex the cable by hand or with an automated fixture.
---
Easy Configuration for ANY Cable Type

Slide interface board between alignment posts
and push down. Tester instantly identifies board and displays true graphic of connected connector/s.

Standard - All Testers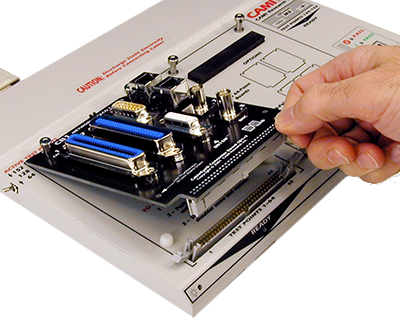 Over 60 Standard Boards Available
Multiple connectors on each interface board save you
money and storage space.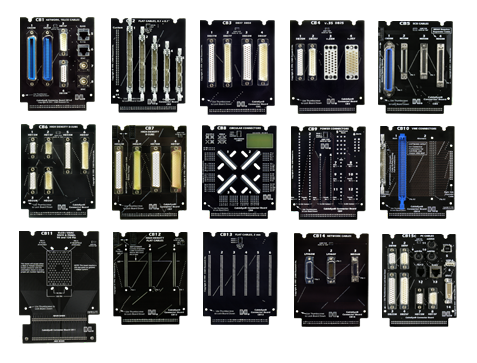 Build Custom Interfaces
Mount special connectors and pigtails on
blank boards, or create adapter cables or panels.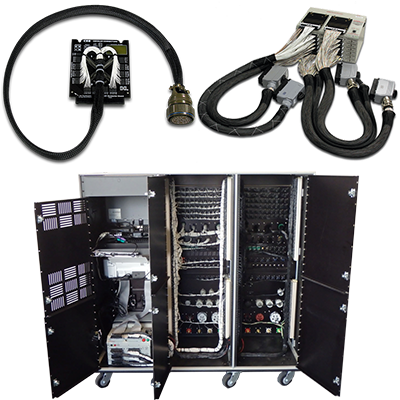 ---
Guided Assembly
Image-, Text-, Speech-Guided Assembly
Autobuild™ Software Module
Optional Add-On Item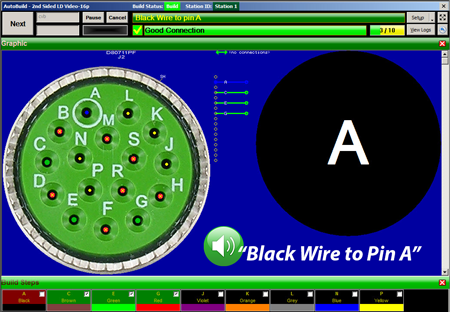 Light-Guided Connector Assembly
Light Director™ System
Optional Add-On Item
---
4-Wire Kelvin Resistance Measurement
HiPot Tester Optional Add-On Item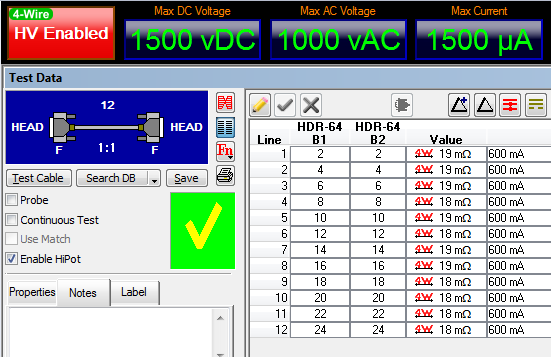 Screenshot of 4-wire resistance test data screen. The header displays the applied test parameters.



---
The most practical, user friendly machine that I have ever used.
I have used your units for several years, that is, when I worked for electronics manufacturing companies in the past. You have an outstanding product, and I say that, because I've seen my share of testing units in the 36 years that I've been in this business, and yours is the most practical, user friendly machine that I have ever used.
Chris Thomann
B & C Custom Cabling
(Contract Cable Assembly)
Hear more from our customers ...

Pass/Fail Check or Diagnostics - Your Choice!
With our cable testers and harness testers, find defective or miswired cables instantly before they damage equipment or waste valuable technician time. CableEye® all-in-one test and cable management systems have a unique, patented graphic wiring display to visually pinpoint problems when wiring errors are detected, and offer under a second pass/fail testing for production environments. Quickly locate intermittent connections and identify their position in the cable.
Models are available in several configurations starting with the 128 test point, entry-level M2. Expand some CableEye testers to over 2000 test points for large cables and wiring harnesses, and measure cables of up to 4000 feet in length.
With the exception of M2 testers, all of our models allow you to check the quality of your connections by providing two programmable resistance thresholds. Additionally, you can measure embedded resistors and resistor networks, check the orientation of diodes, and measure diode forward voltage. If you need to check twist pairing, capacitance, or insulation quality, we have the right system for you.
An on-line database holds an unlimited number of User cables and includes descriptive notes and label text for each cable. Search the database for a wiring match to a measured cable, or by User part number or descriptive text. High-resolution graphic output provides the hard-copy documentation necessary for ISO 9000-certified manufacturing. Simultaneously print labels as cables are tested - any windows compatible printer will suffice. Use bar-code scanners to read cable part numbers and work orders for high-volume production.
Try our low voltage and high voltage (HiPot) testers and explore ...
Production mode batch testing
Pop-Up operator work instructions
Automatic data logging
Golden cable file creation without a physical cable
Amazing interface & reports
Multilingual, dynamic, graphic-rich display
Real-time screening for intermittent connections
Relay control
Simple automation scripting
Guided assembly with spoken and visual instructions
Barcode-tracking & archival data-logging
Precision resistance measurement (4-wire Kelvin)
Checking twist pair relationships

Easy Set-Up & Operation
Choose from a wide variety of interchangeable, plug-in connector boards to mate with most standard cables, and easily mount custom connectors for unusual applications. For special applications, use our MiniHook probes to test continuity in connectorless cables, backplanes, and printed circuit boards.
The easy-to-use software can be set up for one-button operation to speed production testing. Operators need only to press the TEST pushbutton on the fixture to trigger an involved test sequence set up by the quality control engineer, with results automatically logged to disk for later analysis and report generation. Use an optional footswitch for hands-free operation.
For complex wire harnesses and multi-headed cables, label each pin with your own custom text to speed the location of faulty connections.

HiPot Testing to 2100Vdc/1200Vac
Our CableEye HVX Hipot Tester series permits expanded testing for insulation resistance and dielectric breakdown to meet the industry-standard A620 guidelines for cable and wire harness testing. After checking for opens, shorts, miswires, and resistance limits, the hipot module applies a user-selectable voltage from 10V to its model's maximum voltage (2100Vdc/1200Vac for the HVX-21), to each connection group in the cable. Current leakage detected during the high voltage test phase provides a measure of insulation resistance up to a series maximum of 5 GΩ (HVX-21), and any leakage current exceeding a preset limit reveals the presence of moisture, flux, or other contamination on exposed contacts.

Guided Assembly
There are two optional CableEye Guided Assembly capabilites.

Autobuild™ guided assembly software issues visual & audio instructions/feedback for cable & harness manufacturing.

Our Light Director™ guided assembly system provides a patented, computer-guided technique for assembling connectors used in aerospace, medical, and other high-reliability applications. This system uses light fibers driven by super-bright LED lamps to individually illuminate target cavities in the connector being assembled. When the technician enters the wire code printed on unconnected wires, or touches a wire connected at the other end, the CableEye software turns on the appropriate fiber, thereby causing a bright, flashing light to project from inside the target cavity guiding the technician to the proper insertion point. Correct insertion is confirmed by the elimination of light from that location, whereas insertion into an incorrect location leaves the flashing light visible.


Computer Requirements
A Windows-capable machine running Windows 7 or later is required. CableEye cable and harness testers link to the PC using a USB interface, and may be used with touchscreen and laptop PCs e.g. for field testing. One USB port is required for LV testers, and two for HV testers.

What's Included | Product Support | Warranty
All models include a set of two CB boards, operating software (with cable database), power module for LV series, AC plug for HVX series, USB cable (two for HVX series), Getting Started Guide, Software Introduction Booklet, User's Manual (PDF), and two-year Product Support Subscription (PSS) with complimentary software updates, free technical support, warranty and more. The subscription may be renewed yearly for continuing coverage. A PSS is not required for tester operation.

For more information:
CableEye Unique Benefits
An illustrated presentation of how a CableEye cable and harness test system can help you.

Product Selection Wizard
Select your optimal test system in just seconds.

Technical Specifications
Compare, contrast, and plan for future growth.

Videoclip Demonstrations
See how easy it is to design, test, assemble, data log, report, label, and automate.

Hands-on Demo
Borrow a demo unit and take it for a test drive.

Product Catalog (html)
Specifications and part numbers for every item.

Software Introduction Guide
A step-by-step explanation of how CableEye software works.

CableEye Tester Setup
Shows hook-up information.

Literature Package
Includes catalog.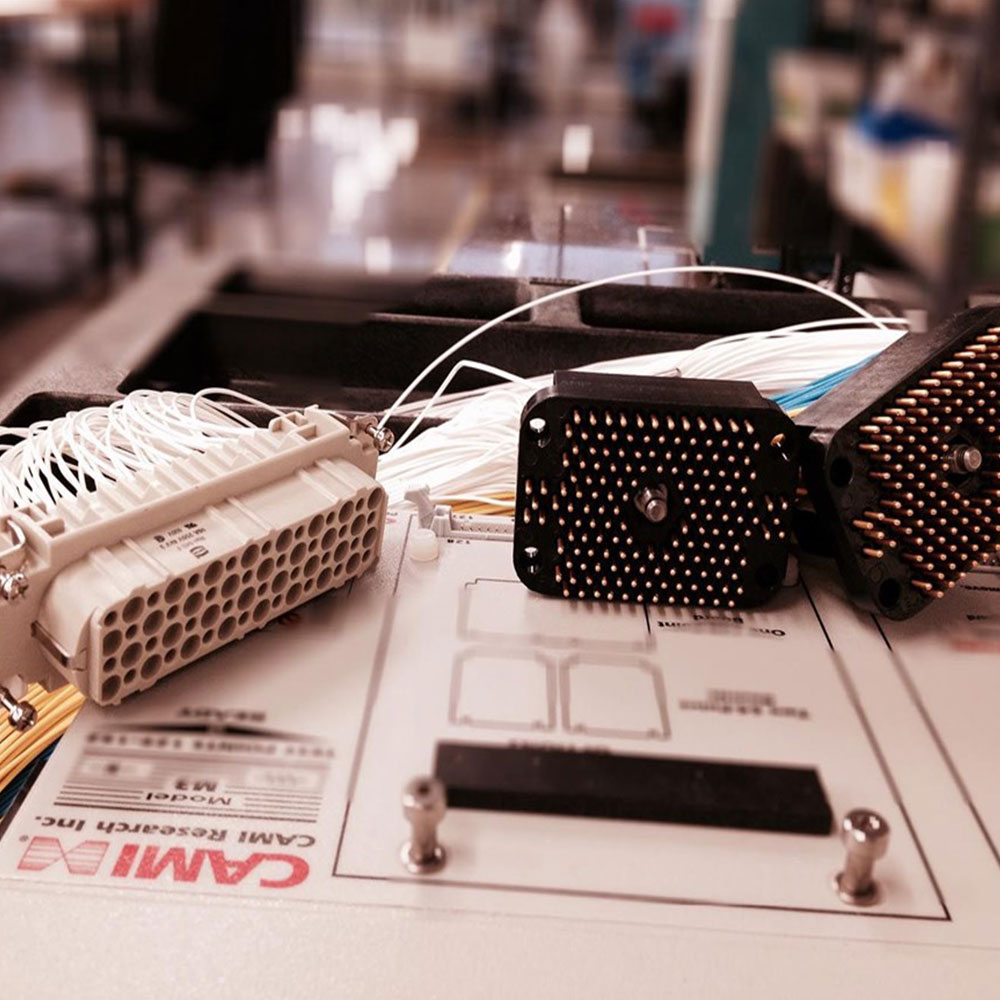 photo credit: Progressive Image
We understand the importance of trying out a tester for yourself before committing to purchase and we've made it easy for you to do so ...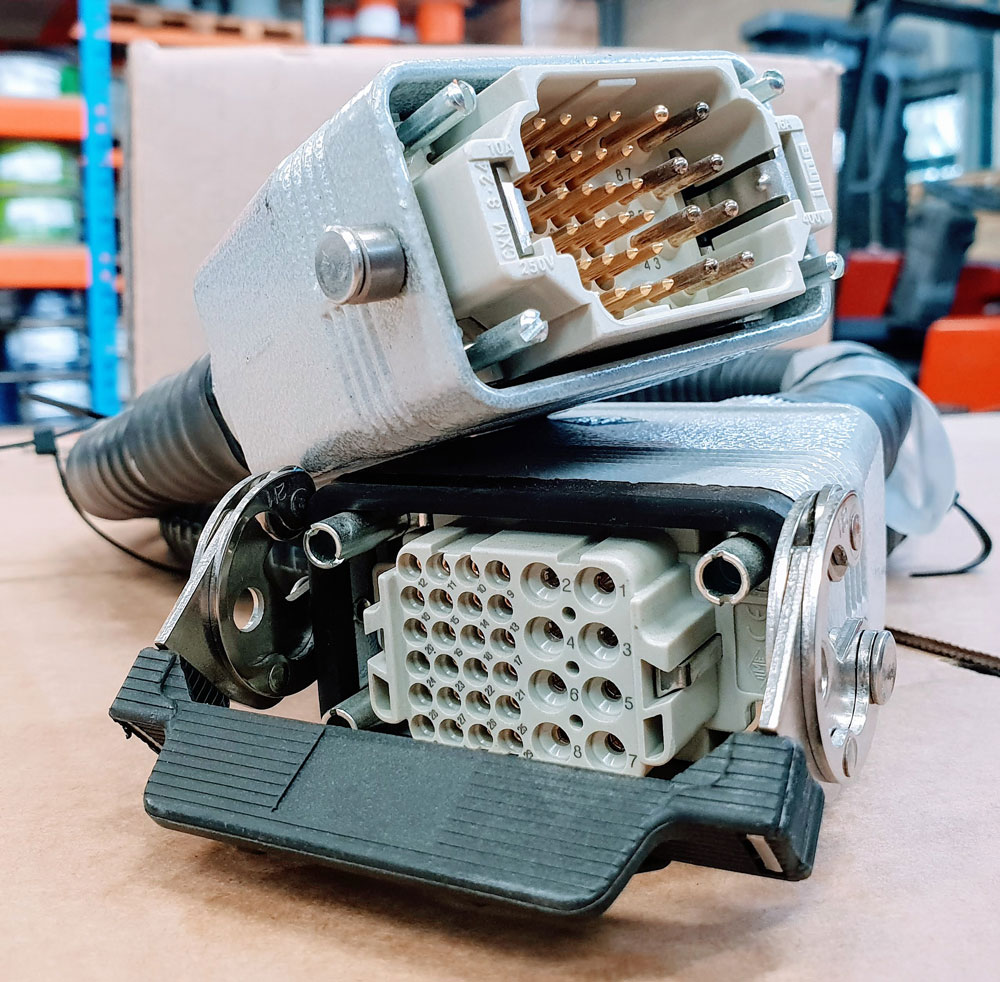 photo credit: AP Technology
"Our production guys find it simple to setup and use. Our clients love it as it provides complete traceability for each and every cable assembly we manufacture."
AP Technology, UK